Sabancaya volcano news & activity updates:
Sabancaya Volcano Volcanic Ash Advisory: INTERMITTENT EMISSIONS to 22000 ft (6700 m)
Saturday Aug 01, 2020 09:00 AM | BY: VN
Explosive activity continues. Volcanic Ash Advisory Center (VAAC) Buenos Aires warned about a volcanic ash plume that rose up to estimated 22000 ft (6700 m) altitude or flight level 220 and is moving at 10 kts in S direction.
The full report is as follows:
FVAG01 at 08:53 UTC, 01/08/20 from SABM
VA ADVISORY
DTG: 20200801/0900Z
VAAC: BUENOS AIRES
VOLCANO: SABANCAYA 354006
PSN: S1547 W07150
AREA: PERU
SUMMIT ELEV: 19576 FT [5967 M]
ADVISORY NR: 2020/903
INFO SOURCE: GOES-E. GFS. WEBCAM.
AVIATION COLOUR CODE: NOT GIVEN
ERUPTION DETAILS: INTERMITTENT EMISSIONS
OBS VA DTG: 01/0800Z
OBS VA CLD: SFC/FL220 S1544 W07149 - S1550 W07147
- S1558 W07145 - S1601 W07150 - S1600 W07153 -
S1548 W07155 - S1544 W07153 - S1544 W07149 MOV S
10KT
FCST VA CLD +6 HR: 01/1400Z SFC/FL220 S1544 W07149
- S1555 W07147 - S1605 W07147 - S1605 W07150 -
S1605 W07153 - S1554 W07153 - S1545 W07153 -
S1544 W07149
FCST VA CLD +12 HR: 01/2000Z SFC/FL220 S1541
W07156 - S1541 W07148 - S1547 W07144 - S1601
W07149 - S1559 W07153 - S1558 W07157 - S1544
W07157 - S1541 W07156
FCST VA CLD +18 HR: 02/0200Z SFC/FL220 S1540
W07152 - S1541 W07149 - S1603 W07147 - S1607
W07149 - S1607 W07153 - S1604 W07157 - S1546
W07156 - S1540 W07152
RMK: VA CLD MOV S IS HARD TO DETECT IN STLT
IMAGERY DUE TO A WEAK EMISSION. WEBCAM SHOWS
SPORADIC STRONG PUFFS OF VA TL FL220. ...SMN
NXT ADVISORY: WILL BE ISSUED BY 20200801/1500Z=
Previous news
More on VolcanoDiscovery: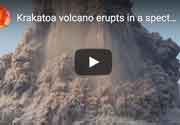 Krakatoa explodes
: In the afternoon of 17 Oct, a particularly violent explosion occurred at Anak Krakatau, blasting away a portion of the southern crater rim. A similar event might have been the final trigger for the catastrophic landslide that let the cone collapse and cause a devastating tsunami on 22 Dec 2018.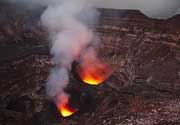 Ambrym volcano photos
: Ambrym (Vanuatu) is one of the most active volcanoes in the world. Its vast caldera has an amazing moonscape and several active vents that contain boiling lava lakes, most famous Marum and Benbow.