Sabancaya volcano news & activity updates:
Sabancaya Volcano Volcanic Ash Advisory: INTERMITTENT EMISSIONS to 24000 ft (7300 m)
Thu, 6 Aug 2020, 01:30
01:30 AM | BY: VN
Satellite image of Sabancaya volcano on 6 Aug 2020
Explosive activity continues. Volcanic Ash Advisory Center (VAAC) Buenos Aires warned about a volcanic ash plume that rose up to estimated 24000 ft (7300 m) altitude or flight level 240 and is moving at 10 kts in SW direction.
The full report is as follows:
FVAG01 at 01:24 UTC, 06/08/20 from SABM
VA ADVISORY
DTG: 20200806/0130Z
VAAC: BUENOS AIRES
VOLCANO: SABANCAYA 354006
PSN: S1547 W07150
AREA: PERU
SUMMIT ELEV: 19576 FT [5967 M]
ADVISORY NR: 2020/922
INFO SOURCE: GOES-E. GFS. WEBCAM.
AVIATION COLOUR CODE: NOT GIVEN
ERUPTION DETAILS: INTERMITTENT EMISSIONS
OBS VA DTG: 05/2350Z
OBS VA CLD: SFC/FL240 S1542 W07152 - S1546 W07150
- S1601 W07156 - S1608 W07202 - S1604 W07209 -
S1552 W07204 - S1547 W07200 - S1542 W07152 MOV SW
10KT
FCST VA CLD +6 HR: 06/0600Z SFC/FL240 S1544 W07152
- S1546 W07149 - S1559 W07153 - S1609 W07159 -
S1607 W07204 - S1604 W07206 - S1551 W07200 -
S1544 W07152
FCST VA CLD +12 HR: 06/1200Z SFC/FL240 S1544
W07148 - S1557 W07151 - S1610 W07155 - S1609
W07201 - S1555 W07158 - S1546 W07151 - S1544
W07148
FCST VA CLD +18 HR: 06/1800Z SFC/FL240 S1544
W07152 - S1544 W07150 - S1556 W07147 - S1608
W07149 - S1610 W07152 - S1607 W07156 - S1554
W07154 - S1544 W07152
RMK: VA PLUME MVG SW DETECTED IN STLT DATA.
WEBCAM SHOWS INTERMITTENT EMISSIONS WITH SOME
STRONG PUFFS OF VA. ...SMN
NXT ADVISORY: WILL BE ISSUED BY 20200806/0730Z=
Previous news
More on VolcanoDiscovery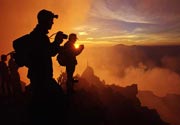 Volcano Trekking
: A physically active tour to visit and climb some of Indonesia's most active and famous volcanoes: Papandayan and Galunggung in West Java, Merapi in Central Java, Kelud, Semeru, Bromo, the Tengger caldera, and Ijen in East Java.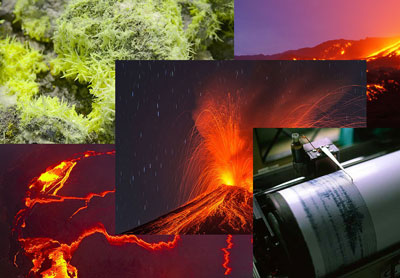 A selection of photos of different features: lava flows, lava fountains, lava lakes, fumaroles and more.