Sabancaya volcano news & activity updates:
Sabancaya Volcano Volcanic Ash Advisory: SPORADICS EMISSIONS to 24000 ft (7300 m)
Fri, 14 Aug 2020, 00:30
00:30 AM | BY: VN
Explosive activity continues. Volcanic Ash Advisory Center (VAAC) Buenos Aires warned about a volcanic ash plume that rose up to estimated 24000 ft (7300 m) altitude or flight level 240 and is moving at 45 kts in E direction.
The full report is as follows:
FVAG01 at 00:22 UTC, 14/08/20 from SABM
VA ADVISORY
DTG: 20200814/0030Z
VAAC: BUENOS AIRES
VOLCANO: SABANCAYA 354006
PSN: S1547 W07150
AREA: PERU
SUMMIT ELEV: 19576 FT [5967 M]
ADVISORY NR: 2020/956
INFO SOURCE: GOES-E. GFS. WEBCAM.
AVIATION COLOUR CODE: NOT GIVEN
ERUPTION DETAILS: SPORADICS EMISSIONS
OBS VA DTG: 13/2330Z
OBS VA CLD: SFC/FL240 S1541 W07149 - S1544 W07117
- S1549 W07113 - S1554 W07111 - S1601 W07116 -
S1558 W07135 - S1550 W07150 - S1544 W07152 -
S1541 W07149 MOV E 45KT
FCST VA CLD +6 HR: 14/0530Z SFC/FL240 S1542 W07101
- S1552 W07059 - S1600 W07102 - S1556 W07132 -
S1546 W07152 - S1543 W07152 - S1542 W07134 -
S1542 W07101
FCST VA CLD +12 HR: 14/1130Z SFC/FL240 S1543
W07122 - S1546 W07114 - S1557 W07118 - S1556
W07134 - S1544 W07152 - S1544 W07150 - S1543
W07122
FCST VA CLD +18 HR: 14/1730Z SFC/FL240 S1543
W07108 - S1549 W07103 - S1558 W07104 - S1556
W07130 - S1546 W07151 - S1543 W07149 - S1543
W07108
RMK: VA PULSES MOV E ARE DETECTED IN SATELLITE
IMAGERY. WEBCAM SHOWS WEAK EMISSIONS OF GASES
AND VA WITH SPORADIC PULSES. ...SMN
NXT ADVISORY: WILL BE ISSUED BY 20200814/0630Z=
Previous news
More on VolcanoDiscovery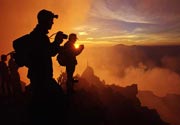 Volcano Trekking
: A physically active tour to visit and climb some of Indonesia's most active and famous volcanoes: Papandayan and Galunggung in West Java, Merapi in Central Java, Kelud, Semeru, Bromo, the Tengger caldera, and Ijen in East Java.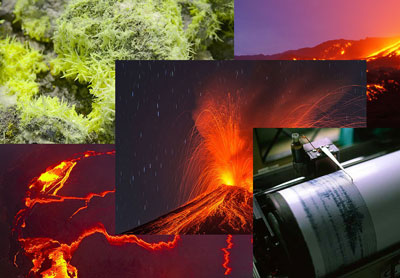 A selection of photos of different features: lava flows, lava fountains, lava lakes, fumaroles and more.