Sabancaya volcano news & activity updates:
Sabancaya Volcano Volcanic Ash Advisory: continuous ash emissions
Sat, 16 Jan 2021, 05:30
05:30 AM | BY: VN
Volcanic Ash Advisory Center Buenos Aires (VAAC) issued the following report:
FVAG01 at 05:22 UTC, 16/01/21 from SABM
VA ADVISORY
DTG: 20210116/0530Z
VAAC: BUENOS AIRES
VOLCANO: SABANCAYA 354006
PSN: S1547 W07150
AREA: PERU
SUMMIT ELEV: 19576 FT [5967 M]
ADVISORY NR: 2021/064
INFO SOURCE: GOES-E. GFS. WEBCAM. VOLCAT.
AVIATION COLOUR CODE: NOT GIVEN
ERUPTION DETAILS: CONTINUOUS EMISSION
OBS VA DTG: 16/0500Z
OBS VA CLD: VA NOT IDENTIFIABLE FROM SATELLITE
DATA
WINDS FL180 190/10KT - FL240 100/10KT - FL300
070/15KT
FCST VA CLD +6 HR: 16/1100Z NOT AVBL
FCST VA CLD +12 HR: 16/1700Z NOT AVBL
FCST VA CLD +18 HR: 16/2300Z NOT AVBL
RMK: VA NOT IDENTIFIABLE FM STLT DATA DUE TO WX
CLDS CVR. WEBCAM SHOWS CONT EMS OF VA WITH
SPORADIC STRONGER PUFFS ...SMN
NXT ADVISORY: WILL BE ISSUED BY 20210116/1130Z=
More on VolcanoDiscovery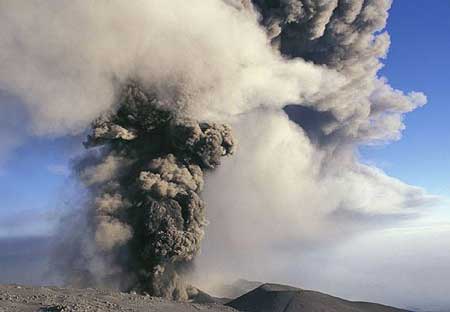 The term for all fine-grained volcanic products fragmented during explosive eruptions.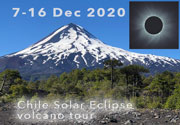 Solar Eclipse & volcano tour
: A total solar eclipse will occur on 14 Dec 2020 and pass over southern Chile and Argentina. Chile's most active volcano Villarrica is located exactly on the center line where the eclipse will be best to observe.
We offer you the unique chance to combine the eclipse with a tour to one the world's most beautiful volcanic areas - the Lake District in Chile.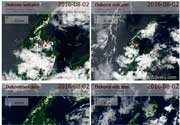 Recent volcano satellite images
: Browse quickly through the latest satellite imagery from volcanoes all over the world in order to spot ash clouds and hot spots.