Sabancaya volcano news & activity updates:
Sabancaya Volcano Volcanic Ash Advisory: INTERMITTENT EMISSIONS to 27000 ft (8200 m)
Sun, 7 Feb 2021, 12:30
12:30 PM | BY: VN
Explosive activity continues. Volcanic Ash Advisory Center (VAAC) Buenos Aires warned about a volcanic ash plume that rose up to estimated 27000 ft (8200 m) altitude or flight level 270 and is moving at 10 kts in SW direction.
The full report is as follows:
FVAG01 at 12:25 UTC, 07/02/21 from SABM
VA ADVISORY
DTG: 20210207/1230Z
VAAC: BUENOS AIRES
VOLCANO: SABANCAYA 354006
PSN: S1547 W07150
AREA: PERU
SUMMIT ELEV: 19576 FT [5967 M]
ADVISORY NR: 2021/156
INFO SOURCE: GOES-E. WEBCAM. VOLCAT.
AVIATION COLOUR CODE: NOT GIVEN
ERUPTION DETAILS: INTERMITTENT EMISSIONS
OBS VA DTG: 07/1200Z
OBS VA CLD: SFC/FL270 S1538 W07149 - S1540 W07144
- S1610 W07208 - S1607 W07222 - S1553 W07223 -
S1540 W07159 - S1538 W07149 MOV SW 10KT
FCST VA CLD +6 HR: 07/1800Z SFC/FL270 S1536 W07146
- S1541 W07144 - S1550 W07151 - S1615 W07213 -
S1615 W07228 - S1601 W07228 - S1540 W07156 -
S1536 W07146
FCST VA CLD +12 HR: 08/0000Z SFC/FL270 S1538
W07146 - S1618 W07216 - S1615 W07231 - S1600
W07234 - S1541 W07155 - S1538 W07146
FCST VA CLD +18 HR: 08/0600Z SFC/FL270 S1537
W07144 - S1618 W07213 - S1617 W07231 - S1605
W07235 - S1538 W07147 - S1537 W07144
RMK: VA PULSES MOV W AND SW ARE BARELY VISIBLE IN
STLT IMAGERY. ON WEBCAM VA WAS SEEN IN PREVIOUS
IMAGES UNTIL FL270 NOW IT IS HINDERED BY CLOUDS.
...SMN
NXT ADVISORY: WILL BE ISSUED BY 20210207/1830Z=
More on VolcanoDiscovery
If you find the website useful and would like to support us and help keep it alive and improve it, please consider
making a small donation
.
Thank you!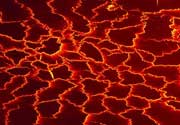 Nyiragongo volcano photos
: Nyiragongo (DR Congo) has the world's largest and most active lava lake. Enjoy our pictures taken during several expeditions over the past years.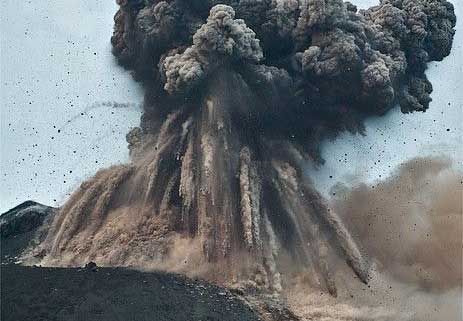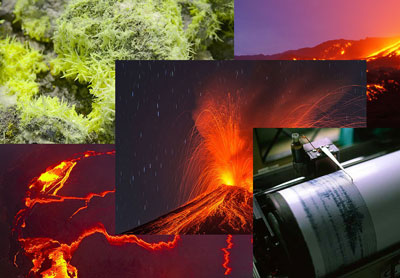 A selection of photos of different features: lava flows, lava fountains, lava lakes, fumaroles and more.