Sabancaya volcano news & activity updates:
Sabancaya Volcano Volcanic Ash Advisory: SPORADIC PUFFS OF VA to 24000 ft (7300 m)
Mon, 15 Feb 2021, 23:45
23:45 PM | BY: VN
Explosive activity continues. Volcanic Ash Advisory Center (VAAC) Buenos Aires warned about a volcanic ash plume that rose up to estimated 24000 ft (7300 m) altitude or flight level 240 and is moving at 05 kts in NE direction.
The full report is as follows:
FVAG01 at 23:36 UTC, 15/02/21 from SABM
VA ADVISORY
DTG: 20210215/2345Z
VAAC: BUENOS AIRES
VOLCANO: SABANCAYA 354006
PSN: S1547 W07150
AREA: PERU
SUMMIT ELEV: 19576 FT [5967 M]
ADVISORY NR: 2021/192
INFO SOURCE: GOES-E. GFS. WEBCAM.
AVIATION COLOUR CODE: NOT GIVEN
ERUPTION DETAILS: SPORADIC PUFFS OF VA
OBS VA DTG: 15/2310Z
OBS VA CLD: SFC/FL240 S1517 W07140 - S1536 W07128
- S1552 W07144 - S1553 W07156 - S1529 W07157 -
S1517 W07140 MOV NE 05KT
FCST VA CLD +6 HR: 16/0500Z SFC/FL240 S1517 W07135
- S1532 W07115 - S1551 W07122 - S1552 W07137 -
S1548 W07153 - S1529 W07149 - S1517 W07135
FCST VA CLD +12 HR: 16/1100Z SFC/FL240 S1537
W07132 - S1537 W07112 - S1605 W07116 - S1556
W07132 - S1549 W07153 - S1537 W07132
FCST VA CLD +18 HR: 16/1700Z SFC/FL240 S1546
W07153 - S1552 W07126 - S1611 W07111 - S1619
W07126 - S1559 W07138 - S1546 W07153
RMK: VA PULSES ARE DETECTED IN STLT IMAGERY THRU
SOME CLDS. WEBCAM SHOWS CONT EMS OF GASES AND VA
AT SUMMIT LVL WITH SPORADIC PUFFS TILL FL240
...SMN
NXT ADVISORY: WILL BE ISSUED BY 20210216/0545Z=
More on VolcanoDiscovery
If you find the website useful and would like to support us and help keep it alive and improve it, please consider
making a small donation
.
Thank you!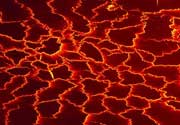 Nyiragongo volcano photos
: Nyiragongo (DR Congo) has the world's largest and most active lava lake. Enjoy our pictures taken during several expeditions over the past years.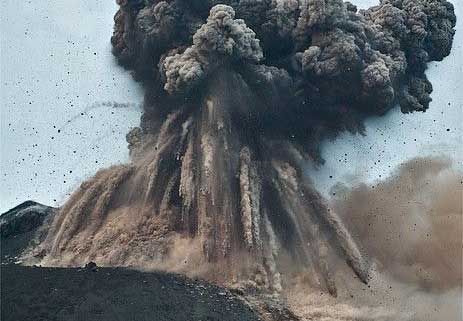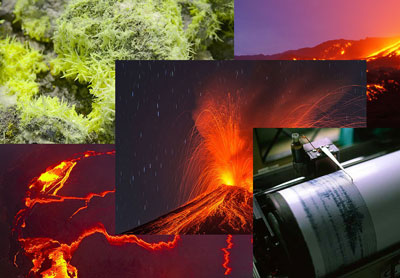 A selection of photos of different features: lava flows, lava fountains, lava lakes, fumaroles and more.