Sabancaya volcano news & activity updates:
Sabancaya Volcano Volcanic Ash Advisory: continuous ash emissions to 25000 ft (7600 m)
Fri, 19 Feb 2021, 15:15
15:15 PM | BY: VN
Explosive activity continues. Volcanic Ash Advisory Center (VAAC) Buenos Aires warned about a volcanic ash plume that rose up to estimated 25000 ft (7600 m) altitude or flight level 250 .
The full report is as follows:
FVAG01 at 15:03 UTC, 19/02/21 from SABM
VA ADVISORY
DTG: 20210219/1520Z
VAAC: BUENOS AIRES
VOLCANO: SABANCAYA 354006
PSN: S1547 W07150
AREA: PERU
SUMMIT ELEV: 19576 FT [5967 M]
ADVISORY NR: 2021/208
INFO SOURCE: GOES-E. GFS. WEBCAM. VOLCAT.
AVIATION COLOUR CODE: NOT GIVEN
ERUPTION DETAILS: CONTINUOUS EMISSION
OBS VA DTG: 19/1450Z
OBS VA CLD: SFC/FL250 S1549 W07152 - S1637 W07125
- S1634 W07145 - S1614 W07149 - S1549 W07152 MOV
S 15KT
FCST VA CLD +6 HR: 19/2100Z SFC/FL250 S1549 W07153
- S1617 W07144 - S1650 W07125 - S1650 W07147 -
S1617 W07158 - S1549 W07153
FCST VA CLD +12 HR: 20/0300Z SFC/FL250 S1549
W07153 - S1614 W07206 - S1702 W07141 - S1652
W07209 - S1609 W07221 - S1549 W07153
FCST VA CLD +18 HR: 20/0900Z SFC/FL250 S1550
W07156 - S1613 W07232 - S1650 W07208 - S1637
W07242 - S1608 W07306 - S1550 W07156
RMK: VA CLD IS DETECTED FM STLT IMAGERY. WEBCAM
SHOWS CONTINUOUS EMISSION OF STEAM AND VA....SMN
NXT ADVISORY: WILL BE ISSUED BY 20210219/2120Z=
More on VolcanoDiscovery
If you find the website useful and would like to support us and help keep it alive and improve it, please consider
making a small donation
.
Thank you!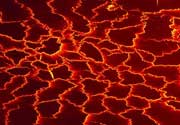 Nyiragongo volcano photos
: Nyiragongo (DR Congo) has the world's largest and most active lava lake. Enjoy our pictures taken during several expeditions over the past years.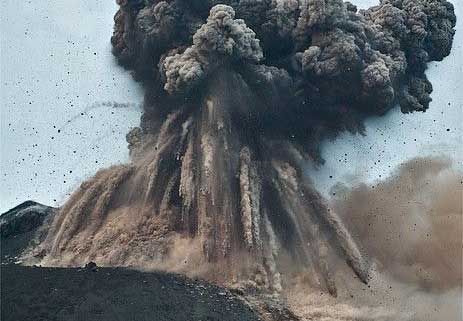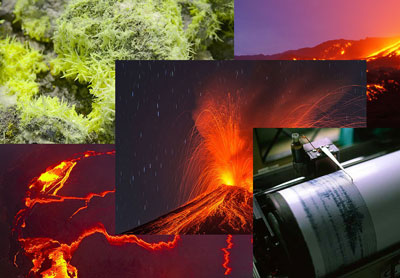 A selection of photos of different features: lava flows, lava fountains, lava lakes, fumaroles and more.