Sabancaya volcano news & activity updates:
Sabancaya volcano Volcanic Ash Advisory: INTERMITTENT EMISSIONS OF VA EST VA DTG: 22/0215Z
Fri, 22 Sep 2017, 03:45
03:45 AM |
Volcanic Ash Advisory Center Buenos Aires (VAAC) issued the following report:
FVAG01 at 03:30 UTC, 22/09/17 from SABM
VA ADVISORY
DTG: 20170922/0330Z
VAAC: BUENOS AIRES
VOLCANO: SABANCAYA 354006
PSN: S1547 W07150
AREA: PERU
SUMMIT ELEV: 19576 FT [5967 M]
ADVISORY NR: 2017/1021
INFO SOURCE: GOES-E. VOLCANO WEB CAMERA.
AVIATION COLOR CODE: ORANGE
ERUPTION DETAILS: INTERMITTENT EMISSIONS OF VA
EST VA DTG: 22/0215Z
EST VA CLD: SFC/FL250 S1547 W07150 - S1539 W07139 - S1537 W07106 -
S1600 W07104 - S1605 W07127 - S1547 W07150
FCST VA CLD +06HR: 22/0815Z SFC/FL250 S1547 W07150 - S1532 W07058 -
S1601 W07054 - S1600 W07148 - S1547 W07150
FCST VA CLD +12HR: 22/1415Z SFC/FL250 S1547 W07150 - S1535 W07055 -
S1608 W07048 - S1602 W07146 - S1547 W07150
FCST VA CLD +18HR: 22/2015Z
RMK: VA NOT IDENTIFIABLE FM STLT DATA DUE TO CLD COVER. T+0 IS
ESTIMATED FM PREVIOUS FCST. WEBCAM SHOWS CONTINUOUS EMISSIONS OF WV
AND GASES WITH INTERMITTENT PUFFS OF VA AND GASES. ...SMN
NXT ADVISORY: WILL BE ISSUED BY 20170922/0930Z=
Previous news
More on VolcanoDiscovery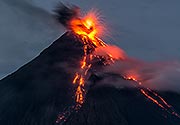 Mayon volcano photos
: Mayon on Luzon Island, towering above Legazpi city is famous for being one of the most perfectly symmetrical stratovolcanoes in the world. It is also one of the most active and most dangerous volcanoes (not only) in the Philippines.
Desert, Salt & Volcanoes
: Experience one of the geologically most active areas on the planet: the Danakil desert in northern Ethiopia. Highlights include Erta Ale volcano with its active lava lake and Dallol hydrothermal fields offering a surreal landscape of colors, salt, geysers and springs.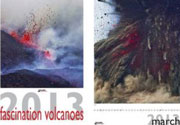 Volcano Calendar 2013
: Our first printed volcano calendar, featuring a paroxysm of Etna, a vulcanian explosion of Krakatau, and much more!