Sabancaya volcano news & activity updates:
Sabancaya Volcano Volcanic Ash Advisory: INTERMITTENT PUFFS OF VA to 27000 ft (8200 m)
Sunday Jan 13, 2019 05:15 AM | BY: VN
Explosive activity continues. Volcanic Ash Advisory Center (VAAC) Buenos Aires warned about a volcanic ash plume that rose up to estimated 27000 ft (8200 m) altitude or flight level 270 and is moving at 15 kts in W direction.
The full report is as follows:
FVAG01 at 05:00 UTC, 13/01/19 from SABM
VA ADVISORY
DTG: 20190113/0500Z
VAAC: BUENOS AIRES
VOLCANO: SABANCAYA 354006
PSN: S1547 W07150
AREA: PERU
SUMMIT ELEV: 19576 FT [5967 M]
ADVISORY NR: 2019/052
INFO SOURCE: GOES-E. GFS WINDS. VOLCANO WEB
CAMERA.
AVIATION COLOR CODE: NOT GIVEN
ERUPTION DETAILS: INTERMITTENT PUFFS OF VA
OBS VA DTG: 13/0415Z
OBS VA CLD: SFC/FL270 S1534 W07214 - S1540 W07151
- S1553 W07146 - S1559 W07217 - S1545 W07226 -
S1534 W07214 MOV W 15KT
FCST VA CLD +6HR: 13/1030Z SFC/FL270 S1531 W07221
- S1541 W07148 - S1549 W07149 - S1606 W07214 -
S1550 W07234 - S1531 W07221
FCST VA CLD +12HR: 13/1630Z SFC/FL270 S1540
W07214 - S1545 W07150 - S1551 W07149 - S1614
W07200 - S1609 W07226 - S1553 W07234 - S1540
W07214
FCST VA CLD +18HR: 13/2230Z SFC/FL270 S1542
W07214 - S1545 W07150 - S1551 W07149 - S1625
W07201 - S1622 W07219 - S1600 W07242 - S1542
W07214
RMK: VA CAN BE SEEN IN STLT IMAGERY.
WEBCAM SHOWS CONTINUOUS EMISSIONS AND SPORADIC
PUFFS ...SMN
NXT ADVISORY: WILL BE ISSUED BY 20190113/1100Z=
Previous news
More on VolcanoDiscovery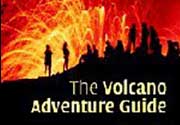 Excellent information for anyone wishing to visit and enjoy active volcanoes safely. Detailed guidelines to 42 different volcanoes around the world.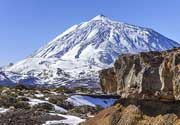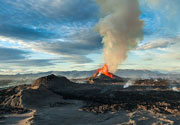 Photos from Iceland
: Volcanoes in the land of fire and ice. Iceland is one of the volcanically most active places on earth.