Sabancaya volcano news & activity updates:
Sabancaya Volcano Volcanic Ash Advisory: INTERMITTENT EMISSIONS to 24000 ft (7300 m)
Friday Mar 15, 2019 07:15 AM | BY: VN
Explosive activity continues. Volcanic Ash Advisory Center (VAAC) Buenos Aires warned about a volcanic ash plume that rose up to estimated 24000 ft (7300 m) altitude or flight level 240 .
The full report is as follows:
FVAG01 at 06:58 UTC, 15/03/19 from SABM
VA ADVISORY
DTG: 20190315/0700Z
VAAC: BUENOS AIRES
VOLCANO: SABANCAYA 354006
PSN: S1547 W07150
AREA: PERU
SUMMIT ELEV: 19576 FT [5967 M]
ADVISORY NR: 2019/305
INFO SOURCE: GOES-E. GFS WINDS. VOLCANO WEB CAMERA.
AVIATION COLOR CODE: NOT GIVEN
ERUPTION DETAILS: INTERMITTENT EMISSIONS
OBS VA DTG: 15/0615Z
OBS VA CLD: SFC/FL240 S1534 W07122 - S1547 W07118
- S1549 W07150 - S1547 W07151 - S1534 W07122 MOV
ENE 10KT
FCST VA CLD +6HR: 15/1230Z SFC/FL240 S1529 W07102
- S1547 W07058 - S1552 W07152 - S1546 W07151 -
S1529 W07102
FCST VA CLD +12HR: 15/1830Z SFC/FL240 S1533
W07055 - S1550 W07054 - S1552 W07150 - S1546
W07150 - S1533 W07055
FCST VA CLD +18HR: 16/0030Z SFC/FL240 S1516
W07054 - S1537 W07046 - S1549 W07128 - S1549
W07151 - S1545 W07150 - S1516 W07054
RMK: VA PULSES ARE IDENTIFIABLE IN STLT IMAGERY
PARTIALLY HIDDEN BY WX CLDS. THERMAL WEBCAM SHOWS
INTERMITTENT EMISSIONS...SMN
NXT ADVISORY: WILL BE ISSUED BY 20190315/1300Z=
Previous news
More on VolcanoDiscovery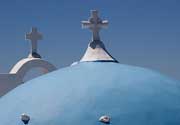 Photos from Greece
: We have traveled and studied extensively in Greece, in particular on its active volcanic areas such as Santorini, Nisyros, Milos, Methana.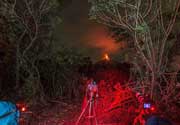 Exploring the unknown
: We sometimes invite you to "test" new itineraries or destinations with us. Such trips are a reduced cost and require a higher degree of flexibility, but often offer a great deal of adventure.
Latest VAAC alerts
: The Volcanic Ash Advisory Centers provide near-real time global monitoring of volcanic ash plumes for aviation. Read the latest (or browse past) advisories.