Sabancaya volcano news & activity updates:
Sabancaya Volcano Volcanic Ash Advisory: continuous ash emissions to 28000 ft (8500 m)
Tue, 21 May 2019, 20:45
20:45 PM | BY: VN
Satellite image of Sabancaya volcano on 21 May 2019
Explosive activity continues. Volcanic Ash Advisory Center (VAAC) Buenos Aires warned about a volcanic ash plume that rose up to estimated 28000 ft (8500 m) altitude or flight level 280 and is moving at 35 kts in SE direction.
The full report is as follows:
FVAG01 at 15:15 UTC, 21/05/19 from SABM
VA ADVISORY
DTG: 20190521/1515Z
VAAC: BUENOS AIRES
VOLCANO: SABANCAYA 354006
PSN: S1547 W07150
AREA: PERU
SUMMIT ELEV: 19576 FT [5967 M]
ADVISORY NR: 2019/567
INFO SOURCE: GOES-E. VOLCANO WEB CAMERA. VOLCAT.
AVIATION COLOR CODE: NOT GIVEN
ERUPTION DETAILS: CONTINUOUS EMISSION WITH STRONG
PUFFS OF VA
OBS VA DTG: 21/1430Z
OBS VA CLD: SFC/FL280 S1549 W07150 - S1634 W07040
- S1613 W07032 - S1614 W07023 - S1644 W07036 -
S1549 W07150 MOV SE 35KT
FCST VA CLD +6HR: 21/2030Z SFC/FL280 S1550 W07150
- S1647 W07017 - S1634 W07000 - S1700 W07013 -
S1550 W07150
FCST VA CLD +12HR: 22/0230Z SFC/FL280 S1547
W07149 - S1626 W07040 - S1708 W07002 - S1711
W06939 - S1716 W07002 - S1628 W07046 - S1547
W07149
FCST VA CLD +18HR: 22/0830Z SFC/FL280 S1550
W07152 - S1620 W07035 - S1720 W06955 - S1732
W06941 - S1729 W06958 - S1625 W07042 - S1550
W07152
RMK: STLT IMAGERY REVEAL VA PLUME
PARTIALLY HIDDEN BY WX CLD. WEBCAM SHOWS CONT
EMS OF STEAM AND GASES WITH SOME PUFFS OF VA TL
FL 280. ...SMN
NXT ADVISORY: WILL BE ISSUED BY 20190521/2115Z=
Previous news
More on VolcanoDiscovery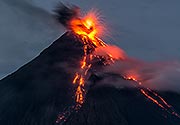 Mayon volcano photos
: Mayon on Luzon Island, towering above Legazpi city is famous for being one of the most perfectly symmetrical stratovolcanoes in the world. It is also one of the most active and most dangerous volcanoes (not only) in the Philippines.
Desert, Salt & Volcanoes
: Experience one of the geologically most active areas on the planet: the Danakil desert in northern Ethiopia. Highlights include Erta Ale volcano with its active lava lake and Dallol hydrothermal fields offering a surreal landscape of colors, salt, geysers and springs.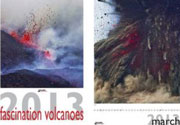 Volcano Calendar 2013
: Our first printed volcano calendar, featuring a paroxysm of Etna, a vulcanian explosion of Krakatau, and much more!