Sakurajima volcano news
Sakurajima volcano (Kyushu, Japan): weekly volcanic activity report 14-18 Feb 2020
Tue, 18 Feb 2020, 10:39
10:39 AM | BY: MARTIN
An ash plume from Sakurajima volcano today (image: JMA)
The Japan Meteorological Agency (JMA) recorded at the Minamidake summit crater
10 eruptions and 9 explosions
detected by the seismic network and
69 volcanic earthquakes and 145 tremors
associated with the eruptions during the period
14-18 Feb 2020.
Incandescence continues to be observed from the crater.
Blocks were ejected as far as 1 km away from Showa crater.
An ash plume rose
4,593 ft (1,400 m)
above the summit crater.
The volcano has a large amount of volcanic gas (sulfur dioxide).
The warning bulletin states that ballistic impacts of volcanic bombs and pyroclastic flows could affect an area of about 2 km distance from the craters.
Source: Japan Meteorological Agency Weekly Volcanic Activity Report 14-18 Feb 2020
More on VolcanoDiscovery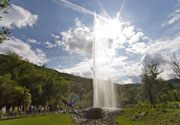 Photos from Germany
: Germany has a large number of volcanoes - most of them extinct, but the Eifel volcanic field is still potentially active.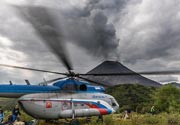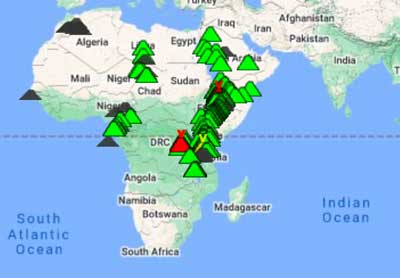 List and map of all volcanoes in Africa. Most volcanoes are located in the Great Rift Valley, but there are more.