Sakurajima volcano news
Sakurajima Volcano Volcanic Ash Advisory: EXPLODED AT 20200228/1147Z VA CLD UNKNOWN OBS VA DTG: 28/1140Z
Fri, 28 Feb 2020, 12:00
12:00 PM | BY: VN
Satellite image of Sakurajima volcano on 28 Feb 2020
Volcanic Ash Advisory Center Tokyo (VAAC) issued the following report:
FVFE01 at 11:53 UTC, 28/02/20 from RJTD
VA ADVISORY
DTG: 20200228/1153Z
VAAC: TOKYO
VOLCANO: SAKURAJIMA [AIRA CALDERA] 282080
PSN: N3136 E13039
AREA: JAPAN
SUMMIT ELEV: 1117M
ADVISORY NR: 2020/304
INFO SOURCE: HIMAWARI-8 JMA
AVIATION COLOUR CODE: NIL
ERUPTION DETAILS: EXPLODED AT 20200228/1147Z VA CLD UNKNOWN
OBS VA DTG: 28/1140Z
OBS VA CLD: VA NOT IDENTIFIABLE FM SATELLITE DATA WIND FL180 280/65KT
FCST VA CLD +6 HR: NOT AVBL
FCST VA CLD +12 HR: NOT AVBL
FCST VA CLD +18 HR: NOT AVBL
RMK: WE WILL ISSUE FURTHER ADVISORY IF VA IS DETECTED IN SATELLITE
IMAGERY.
NXT ADVISORY: NO FURTHER ADVISORIES=
More on VolcanoDiscovery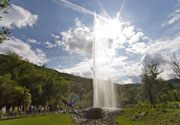 Photos from Germany
: Germany has a large number of volcanoes - most of them extinct, but the Eifel volcanic field is still potentially active.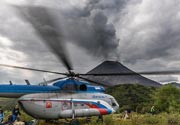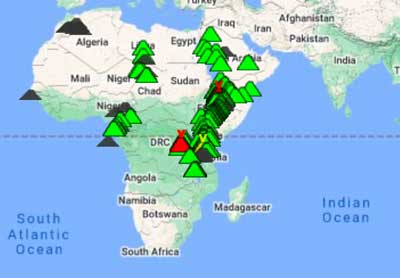 List and map of all volcanoes in Africa. Most volcanoes are located in the Great Rift Valley, but there are more.