Vote
[?]
Copyright: Tom Pfeiffer
Contact: Email
File: sakurajima_j00137-2.jpg | Hits
More on VolcanoDiscovery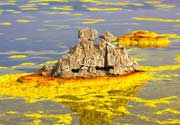 Dallol hot springs
: One of the most bizarre landscapes on earth: Dallol is a vast and very active hydrothermal field creating a colorful array of hot springs, small geysers, salt towers, colorful lakes and ponds in the middle of the deepest part of the Danakil desert and the Karum salt lake.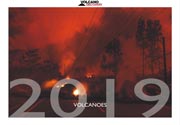 Volcano Calendar 2019
: We're proud to present our 2019 volcano calendar: 13 different and attractive images of volcanoes, volcanic landscapes and phenomena taken during volcano tours over the past few years.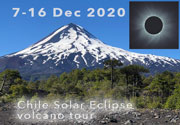 Solar Eclipse & volcano tour
: A total solar eclipse will occur on 14 Dec 2020 and pass over southern Chile and Argentina. Chile's most active volcano Villarrica is located exactly on the center line where the eclipse will be best to observe.
We offer you the unique chance to combine the eclipse with a tour to one the world's most beautiful volcanic areas - the Lake District in Chile.