San Pedro-Pellado volcano
Updated: Jul 6, 2022 14:28 GMT -
Refresh
stratovolcano 3621 m / 11,880 ft
Central Chile and Argentina (South America), -35.99°S / -70.85°W
Current status: normal or dormant (1 out of 5)
Last update: 29 Jan 2013 (seismic swarm)

San Pedro-Pellado volcano (also known as San Pedro-Tatara) and is a stratovolcanoe in central Chile, located within the 6 x 12 km Río Colorado caldera.
San Pedro stratovolcano has a glacier-filled crater and fumaroles on the SE side of Pellado volcano, an older, eroded predecessor volcano. San Pedro overlies a basal shield of basalt flows. The most recent activity built a young scoria cone some time during the past 10,000 years, but there are no historical eruptions.

Note: there is a volcano with a similar name "San Pedro" in Chile.
Typical eruption style:
explosive
San Pedro-Pellado volcano eruptions:
unknown
Lastest nearby earthquakes:
No recent earthquakes
Background
The San Pedro-Pellado volcanic complex has been active since about 5 million years ago. It overlies the deeply eroded Pellado stratovolcano; both were constructed within the 6 x 12 km Río Colorado caldera. The caldera formed during a large explosive eruption about 0.5 million years ago.
The Tatara basaltic-andesite shield volcano at the western end of the complex contains up to 100 or more lava flows reaching a total thickness of up to 1500 m.
The dominantly andesitic San Pedro stratovolcano overlies the Tatara edifice.
A major Holocene east-flank debris avalanche filled the Río de la Puente valley to the south and was followed by eruptions from within the avalanche scarp low on the east flank. It produced lava flows down the Estero Pellado drainage.
---
Source: GVP
San Pedro-Pellado Photos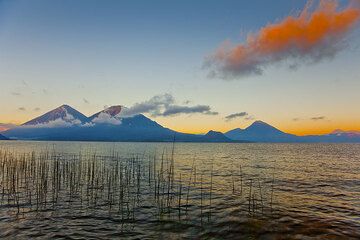 Atitlán, Toliman, and San Pedro volcanoes (Photo: Tom Pfeiffer)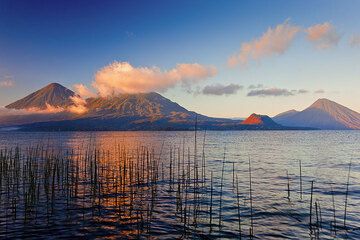 Early morning at the shore of Lake Atitlán with Atitlán, Toliman and San Pedro volcanoes in the background (Photo: Tom Pfeiffer)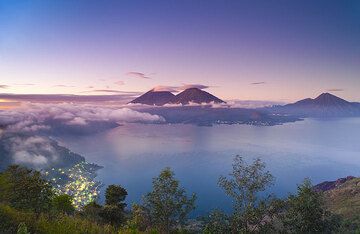 Lake Atitlán at sunrise with Toliman and Atitlán and San Pedro volcanoes (Photo: Tom Pfeiffer)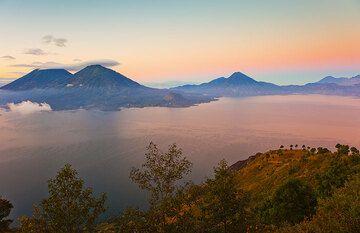 Sunrise above the Lake Atitlán with Atitlán, Toliman and San Pedro volcanoes behind (Photo: Tom Pfeiffer)

See also: Sentinel hub | Landsat 8 | NASA FIRMS