Sangay volcano news
Sangay Volcano Volcanic Ash Advisory: INTMT VA CLDS. to 20000 ft (6100 m)
Wednesday Jul 01, 2020 11:45 AM | BY: VN
Explosive activity continues. Volcanic Ash Advisory Center (VAAC) Washington warned about a volcanic ash plume that rose up to estimated 20000 ft (6100 m) altitude or flight level 200 .
The full report is as follows:
FVXX20 at 11:35 UTC, 01/07/20 from KNES
VA ADVISORY
DTG: 20200701/1133Z
VAAC: WASHINGTON
VOLCANO: SANGAY 352090
PSN: S0200 W07820
AREA: ECUADOR
SUMMIT ELEV: 17159 FT [5230 M]
ADVISORY NR: 2020/630
INFO SOURCE: GOES-EAST. NWP MODELS.
ERUPTION DETAILS: INTMT VA CLDS.
OBS VA DTG: 01/1110Z
OBS VA CLD: SFC/FL200 S0155 W07843 - S0159 W07820
- S0201 W07820 - S0204 W07842 - S0155 W07843 MOV
W 20-25KT
FCST VA CLD +6HR: 01/1700Z SFC/FL200 S0155 W07843
- S0200 W07819 - S0201 W07819 - S0205 W07842 -
S0155 W07843
FCST VA CLD +12HR: 01/2300Z NO ASH EXP
FCST VA CLD +18HR: 02/0500Z NO ASH EXP
RMK: INTMT VA ACTVTY OBS IN STLT. FL AND FCST
MVMT BASED ON NWP MODEL GDNC WINDS. ...LEVINE
NXT ADVISORY: WILL BE ISSUED BY 20200701/1730Z
Previous news
More on VolcanoDiscovery: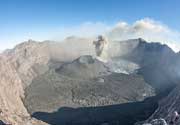 Raung volcano photos
: One of the largest and most active volcanoes in East Java, rarely-visited and relatively unknown Raung became (in)famous during its recent eruption in 2015 when its frequent ash plumes forced the repeated closure of Bali's airport.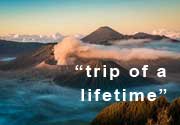 What clients have said
: Browse through feedback about our tours from customers, read what they have said about us!
Latest VAAC alerts
: The Volcanic Ash Advisory Centers provide near-real time global monitoring of volcanic ash plumes for aviation. Read the latest (or browse past) advisories.