Sangay volcano news
Sangay Volcano Volcanic Ash Advisory: VA CLDS OBS IN STLT to 20000 ft (6100 m)
Thu, 23 Jan 2020, 19:30
19:30 PM | BY: VN
Satellite image of Sangay volcano on 23 Jan 2020
Explosive activity continues. Volcanic Ash Advisory Center (VAAC) Washington warned about a volcanic ash plume that rose up to estimated 20000 ft (6100 m) altitude or flight level 200 .
The full report is as follows:
FVXX21 at 19:16 UTC, 23/01/20 from KNES
VA ADVISORY
DTG: 20200123/1912Z
VAAC: WASHINGTON
VOLCANO: SANGAY 352090
PSN: S0200 W07820
AREA: ECUADOR
SUMMIT ELEV: 17159 FT [5230 M]
ADVISORY NR: 2020/085
INFO SOURCE: GOES-EAST. NWP MODELS.
ERUPTION DETAILS: VA CLDS OBS IN STLT
OBS VA DTG: 23/1840Z
OBS VA CLD: SFC/FL200 S0158 W07819 - S0209 W07758
- S0217 W07806 - S0201 W07822 - S0158 W07819 MOV
SE 15-20KT
FCST VA CLD +6HR: 24/0030Z SFC/FL200 S0158 W07819
- S0208 W07749 - S0219 W07759 - S0201 W07822 -
S0158 W07819
FCST VA CLD +12HR: 24/0630Z SFC/FL200 S0156
W07818 - S0207 W07748 - S0219 W07758 - S0201
W07822 - S0156 W07818
FCST VA CLD +18HR: 24/1230Z SFC/FL200 NO ASH EXP
RMK: VA CLDS OBS IN STLT IMAGERY. LOW CONF WITH
EXT OF VA DUE TO WX CLDS IN REGION. VA HGT AND
DIR FM NWP MDLS WHICH SHOW CONT SE-LY MOVG THRU
T+12. ...SAMBUCCI
NXT ADVISORY: WILL BE ISSUED BY 20200124/0115Z
Previous news
More on VolcanoDiscovery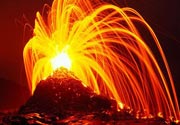 Volcano Tours on Hawai'i
: The Hawaiian Islands are not only home to the most active volcanoes in the world, Kilauea and Mauna Loa on the Big Island, but also boast a unique natural environment. Born by volcanic activity of a very active hot spot in the middle of the Pacific Plate, they are a showcase of natural history.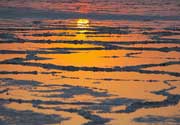 Ethiopia and the Danakil
: Ethiopia is a very diverse and beautiful country. Thanks to our numerous
expeditions to Erta Ale and Dallol
and beyond, we have an extensive collection of images showing the volcano's lava lake, the desert, the colorful hot springs of Dallol, the vast salt lakes, camel caravans and more.
Photos from Kilauea volcano: lava flowing into the sea