Volcano news: Santa Maria (Guatemala)
Santa María / Santiaguito volcano (Guatemala) activity update
Fri, 18 Apr 2014, 08:07
08:07 AM | BY: T
No significant changes in the currently relatively low activity have been reported. Occasional small to moderate explosions and weak avalanches from the active lava flow on the SE side of the dome occurred during 16-17 April.
Previous news
More on VolcanoDiscovery
If you find the website useful and would like to support us and help keep it alive and improve it, please consider
making a small donation
.
Thank you!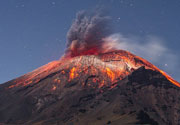 Popocatépetl Volcano Special
: The activity of Mexico's most active and largest volcano has been picking up gradually during the past months. If you like to join a small group of volcano enthusiasts, join us, stay 5 nights near the volcano and move around for extended day- and night-time observation.
Guatemala photos
: Guatemala - a land of volcanoes and the colorful Mayan culture with incredible variety. A dream destination for volcano enthusiasts and photographers!