Volcano news: Santa Maria (Guatemala)
Santiaguito volcano (Guatemala): powerful explosion, ash to 6000 m altitude yesterday morning
Tue, 12 Jul 2016, 08:07
08:07 AM | BY: T
Detection of the ash plume from Santiaguito yesterday morning (NOAA/CIMSS Volcanic Cloud Monitoring website)
Another explosion took place at the volcano yesterday morning (at 01:45 local time), sending an ash plume to 6000 m a.s.l. (18,000 ft), which means it was likely one of the largest in the current series of vulcanian eruptions.
As it occurred at night, there seem to be no direct observations, but the ash plume, which drifted west before dissipating over the Pacific, was detected on satellite imagery.
Previous news
More on VolcanoDiscovery
If you find the website useful and would like to support us and help keep it alive and improve it, please consider
making a small donation
.
Thank you!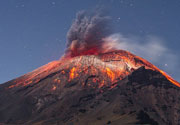 Popocatépetl Volcano Special
: The activity of Mexico's most active and largest volcano has been picking up gradually during the past months. If you like to join a small group of volcano enthusiasts, join us, stay 5 nights near the volcano and move around for extended day- and night-time observation.
Guatemala photos
: Guatemala - a land of volcanoes and the colorful Mayan culture with incredible variety. A dream destination for volcano enthusiasts and photographers!