Eruption news and updates from Sarychev Peak:
Sarychev Peak volcano (Kuril Islands): increasing activity
Mon, 11 Jan 2021, 10:56
10:56 AM | BY: MARTIN
Red arrow shows a higher surface temperature at Sarychev peak yesterday. Visibility is limited due to dense clouds (image: Sentinel 2)
Fumarolic activity at Sarychev volcano on 1 August last year (image: KVERT)
Activity of the volcano continues at elevated levels.
KVERT reported that on 10 January at 15:17 UTC KVERT a difference between thermal anomaly and background temperature was 79,8 °C identified in VolSatView satellite data likely caused by a new batch of magma that could be rising inside the volcano's conduits towards the crater.
Formation of lava flows in the summit crater in the near future is a possibility if activity at the volcano increases further.
The last explosive eruptions at the volcano occurred on 12, 14 and 18 September 2018.
Source: Kamchatka Volcanic Eruption Response Team volcano activity update 11 January 2021
Previous news
More on VolcanoDiscovery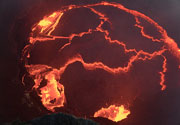 Photos from lava lakes in the world: Erta Ale, Nyiragongo, Hawaii, Vanuatu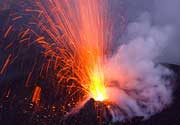 Climbing Stromboli volcano
: Stromboli provides one of the most remarkable opportunities to watch volcanic eruptions from close: a natural ridge located 150 m above the active vents. A classic and all-time favorite tour by anyone interested in seeing active volcanoes!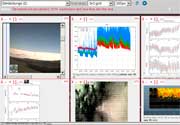 Live webcams of Bardarbunga volcano
: Watch live webcam image, seismic and other real-time data in real time. If the large Icelandic volcanic erupts, you could follow the activity here.