Eruption news and updates from Sarychev Peak:
Sarychev volcano (Kuril Islands), short summary & update
Thu, 6 Aug 2009, 12:20
12:20 PM |
Sarychev volcano erupted violently starting 11 June 2009 until mid-end of June, producing a series of sub-plinian eruptions sending large gas and ash plumes to 10-14 km elevation, which drifted westward across the northern hemisphere. The most powerful eruptions occurred between June 11-16. No large ash explosions were noted after 16 June, but Sarychev continues to erupt and produce smaller gas and ash plumes.
There is no local volcano monitoring available on Sarychev island (which likely would have been destroyed by now), and information on its activity is based on satellite and pilot observations.
Extensive coverage of Sarychev's activity can be found on several websites listed below.
-
The USGS / GVP weekly reports about Sarychev
-
The Volcanism Blog's coverage on Sarychev
-
The Eruptions Blog's coverage on Sarychev
More on VolcanoDiscovery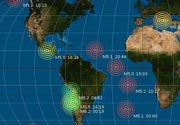 Monthy earthquake reports
: For each month since July 2012, we publish a summary of quake activity world-wide: find the list of largest quake, a map showing all significant quakes as well as detailed statistics on seismic activity during this time.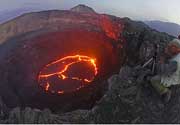 Desert, Salt & Volcanoes
: One of our best volcano expeditions! Stay 3 full days / nights at the active lava lake of Erta Ale, explore the wonders of Dallol and the Danakil desert in northern Ethiopia. 14 days expedition during Nov-March, small groups, guided by geologist.
Volcano Videos on YouTube
: Our YouTube channel: volcanic activity world-wide shown through videos taken during our volcano tours and expeditions complimented by some time-lapse videos from webcams.