Shishaldin volcano news & activity updates:
Sun, 19 Jul 2020, 23:30
Thu, 25 Jun 2020, 06:13
Wed, 6 May 2020, 07:37
Read more...
read all
Fri, 17 Apr 2020, 06:17
Mon, 6 Apr 2020, 08:49
Read more...
read all
Thu, 26 Mar 2020, 07:57
Fri, 20 Mar 2020, 05:00
The Alaskan Volcano Observatory (AVO) report that the eruptive activity continues at Shishaldin volcano. Minor explosive activity has subsided over the past 24 hours, but seismicity remains elevated with near-continuous tremor. A small steam plume from the summit was observed over the past 24 hours. For now, eruptive activity looks as if it is confined to the summit area, but activity could increase with little or no warning resulting in lava flows outside of the crater, lahars, and ash emissions.
Sun, 15 Mar 2020, 17:25
Wed, 11 Mar 2020, 08:42
Read more...
read all
Thu, 27 Feb 2020, 09:22
Show more news
More on VolcanoDiscovery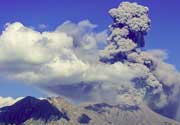 Volcanic crisis at Sakurajima - updates
: A strong earthquake swarm and increased inflation were detected in August 2015 and triggered authorities to raise the alert level, as volcanologists think that a larger eruption could follow. News and updates on the events can be found on this page.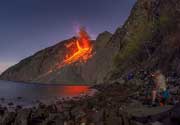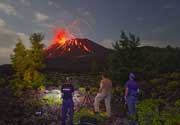 Volcano & eruption special tours
: Tours dedicated to usually a single volcano currently in eruption. These trip, sometimes offered only last-minute through our newsletter, are among the most adventurous and most popular in our program.