Shiveluch volcano
Updated: Dec 3, 2023 00:05 GMT
-
Stratovolcano 3283 m (10,771 ft)
Kamchatka, 56.65°N / 161.36°E
Current status: erupting (4 out of 5)
Last update: 29 Nov 2023 (Smithsonian / USGS Weekly Volcanic Activity Report)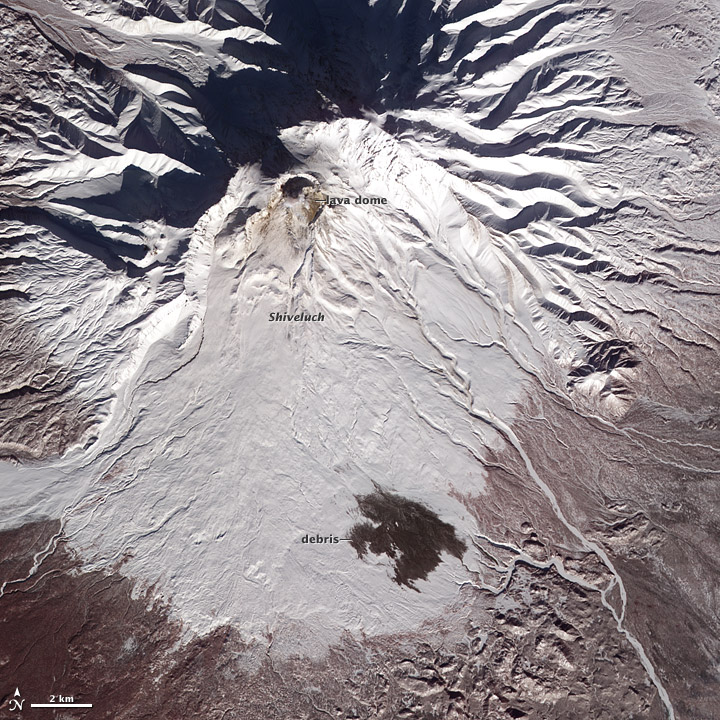 Shiveluch volcano on a Terra satellite image from 19 Feb 2012. Volcanic debris is seen on the lower flanks; the debris traveled about 10 kilometers (6 miles) from Shiveluch's growing lava dome. (Nasa Earth Observatory)
Shiveluch (Sheveluch) volcano is one of Kamchatka's largest and most active volcanoes, and the one that has had the most violent eruptions.
Typical eruption style:
Highly explosive. Construction of lava domes and large pyroclastic flows caused by dome collapse. One of Kamchatka's largest and most active volcanoes.
Shiveluch volcano eruptions:
1739(?), 1800(?), 1854 (Plinian eruption), 1879-83, 1897-98, 1905, 1928-29, 1930, 1944-50, 1964 (sub-Plinian, large dome collapse and debris flow), 1980-81, 1984, 1985, 1986-88, 1988, 1989 1990-94, 1997, 1998, 1999, 1999-ongoing
Latest nearby earthquakes
No recent earthquakes
Background
Shiveluch has had over 60 large explosive eruptions during the past 10,000 years. Catastrophic eruptions took place in 1854 and 1956, when a large part of the lava dome collapsed and created a devastating debris avalanche.
It belongs to the Kliuchevskaya volcano group and is about 65,000 years old. Its summit is truncated by a broad 9-km-wide caldera of about 10,000 years of age, breached to the south. Many lava domes dot its outer flanks. Widespread tephra layers from Shiveluch's eruptions are valuable time markers for dating volcanic events in Kamchatka.
Shiveluch Photos
| | |
| --- | --- |
| Incandescent rockfall down flank of lava dome of Shiveluch volcano, Kamchatka (Oct 2013) (Photo: Richard Roscoe) | Explosion at Shiveluch volcano (Kamchatka) Oct 2016 (Photo: Andrey) |
| The active lava dome of Shiveluch volcano, Kamchatka, in Oct 2013 (Photo: Richard Roscoe) | Ash venting from Shiveluch volcano's lava dome (Oct 2013), Kamchatka (Photo: Richard Roscoe) |



See also: Sentinel hub | Landsat 8 | NASA FIRMS
Shiveluch volcano tours
volcano expedition to Kamchatka
16-19 days - Easy to Moderate
Price 0 €
no scheduled dates at present
8-day expedition to see the ongoing eruption of Shiveluch volcano 16-24 Mar 2019
9 days / 8 nights - Easy
Price 2750 €
no scheduled dates at present