Sinabung volcano (Sumatra): eruption news and activity updates
Sinabung Volcano Volcanic Ash Advisory: VA REPORTED TO FL110 AT 04/2230Z EST VA DTG: 05/0015Z
Saturday Sep 05, 2020 00:30 AM | BY: VN
Volcanic Ash Advisory Center Darwin (VAAC) issued the following report:
FVAU02 at 00:27 UTC, 05/09/20 from ADRM
VA ADVISORY
DTG: 20200905/0015Z
VAAC: DARWIN
VOLCANO: SINABUNG 261080
PSN: N0310 E09824
AREA: INDONESIA
SUMMIT ELEV: 2460M
ADVISORY NR: 2020/72
INFO SOURCE: HIMAWARI-8 CVGHM
AVIATION COLOUR CODE: ORANGE
ERUPTION DETAILS: VA REPORTED TO FL110 AT 04/2230Z
EST VA DTG: 05/0015Z
EST VA CLD: VA NOT IDENTIFIABLE FM SATELLITE DATA WIND
SFC/FL110 010/10KT
FCST VA CLD +6 HR: 05/0615Z NOT AVBL
FCST VA CLD +12 HR: 05/1215Z NOT AVBL
FCST VA CLD +18 HR: 05/1815Z NOT AVBL
RMK: CVGHM REPORTED ERUPTION TO FL110 MOV NNE. VA
UNIDENTIFIABLE ON SATELLITE IMAGERY DUE TO MET CLOUD. HEIGHT
AND WINDS BASED ON GROUND REPORT AND MODEL DATA. ADVISORY
WILL BE RE-ISSUED IF NEW INFORMATION IS RECEIVED.
NXT ADVISORY: NO FURTHER ADVISORIES
Previous news
More on VolcanoDiscovery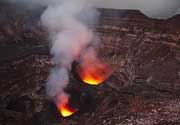 Ambrym volcano photos
: Ambrym (Vanuatu) is one of the most active volcanoes in the world. Its vast caldera has an amazing moonscape and several active vents that contain boiling lava lakes, most famous Marum and Benbow.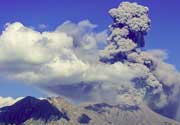 Volcanic crisis at Sakurajima - updates
: A strong earthquake swarm and increased inflation were detected in August 2015 and triggered authorities to raise the alert level, as volcanologists think that a larger eruption could follow. News and updates on the events can be found on this page.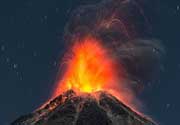 Volcano Special Tours
: We organize tours to particularly active volcanoes and during ongoing eruptions for extended observation time from various viewpoints. These trips, exclusively for very small groups, are often announced only at short notice and require fast travel and flexibility. Each trip is accompanied by a volcanologist from our team. Examples include: Kilauea (Hawai'i), Colima (Mexico), Krakatau and many others.