Sinabung volcano (Sumatra): eruption news and activity updates
Sinabung volcano (Sumatra, Indonesia): eruption continues with near-constant pyroclastic flows
Fri, 6 Nov 2020, 12:23
12:23 PM | BY: MARTIN
Pyroclastic flow from Sinabung volcano today (image: @Rizal06691023/twitter)
The activity of the volcano has remained essentially unchanged and is characterized by near-constant pyroclastic flows.
The pyroclastic flows continue to be observed that traveled over the east-southeast flanks at about
6,561-8,202 ft (2,000-2,500 m)
distance from the summit. The phoenix clouds are associated with this process.
Explosive activity is characterized by occasional vulcanian-type explosions that generated a dense ash plume, which reached approx.
12,000 ft (3,700 m)
altitude and drifted E.
The seismic instruments record 4 earthquakes related to pyroclastic flows and 136 volcano-tectonic earthquakes.
The warning bulletin states that ballistic impacts of volcanic bombs and pyroclastic flows could affect an area of about 3 km distance from the main crater and 5 km on the SE flank and 4 km on the NE flank.
Source: Pusat Vulkanologi dan Mitigasi Bencana Geologi volcano activity update 6 November 2020
Previous news
More on VolcanoDiscovery
If you find the website useful and would like to support us and help keep it alive and improve it, please consider
making a small donation
.
Thank you!
Tropical rainforest, coconut palm beaches, primitive culture and moon-like landscapes, and some of the
world's most active and exciting volcanoes
. Join us on our
expedition to Vanuatu
.
Active volcanoes map
: Check which volcanoes are currently active (erupting). Our daily updated maps give a quick overview.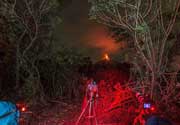 Exploring the unknown
: We sometimes invite you to "test" new itineraries or destinations with us. Such trips are a reduced cost and require a higher degree of flexibility, but often offer a great deal of adventure.