Sinabung volcano (Sumatra): eruption news and activity updates
Sinabung volcano (Sumatra, Indonesia) activity update
Monday Jan 06, 2014 13:59 PM | BY: T
The flat, cake-like lava dome of Sinabung (Photo: Sutopo Purwo Nugroho/BNPB)
Pyroclastic flow this morning
Large pyroclastic flow this afternoon
Hazard map of Sinabung with 5 and 7 km radius
The glowing lava dome and glowing deposits from a pyroclastic flow at night (Photo: Dailybhaskar.com))
Activity has remained high, with reported 60 explosions/pyroclastic flows today, according to Karo News. The size of the flows continues to increase gradually and approaches 5 km distance.
The largest pyroclastic flow day today at 16:49 p.m. (local time) reached 4.5 km and seems to have involved the whole southeastern slope.
Authorities extended the exclusion zone to 7 km on the southeast side where the pyroclastic flows are currently channeled. The number of evacuated is reported as 20,331.
Pictures show that the lava dome has a flat cake-like surface, which suggests either a relative modest viscosity (allowing it to deform and flatten more easily) and/or a low extrusion rate. Both factors contribute to prevent the build-up of a steeper (and more dangerous) dome.
---
Links / Sources:
Previous news
More on VolcanoDiscovery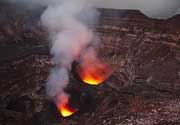 Ambrym volcano photos
: Ambrym (Vanuatu) is one of the most active volcanoes in the world. Its vast caldera has an amazing moonscape and several active vents that contain boiling lava lakes, most famous Marum and Benbow.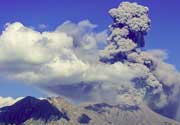 Volcanic crisis at Sakurajima - updates
: A strong earthquake swarm and increased inflation were detected in August 2015 and triggered authorities to raise the alert level, as volcanologists think that a larger eruption could follow. News and updates on the events can be found on this page.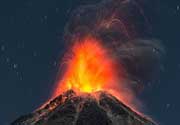 Volcano Special Tours
: We organize tours to particularly active volcanoes and during ongoing eruptions for extended observation time from various viewpoints. These trips, exclusively for very small groups, are often announced only at short notice and require fast travel and flexibility. Each trip is accompanied by a volcanologist from our team. Examples include: Kilauea (Hawai'i), Colima (Mexico), Krakatau and many others.