Sinabung volcano (Sumatra): eruption news and activity updates
Sinabung volcano Volcanic Ash Advisory: ERUPTION TO FL130 AT 11/1228Z MOV W.
Saturday Mar 11, 2017 13:15 PM |
Volcanic Ash Advisory Center Darwin (VAAC) issued the following report:
FVAU0300 at 13:05 UTC, 11/03/17 from ADRM
VA ADVISORY
DTG: 20170311/1305Z
VAAC: DARWIN
VOLCANO: SINABUNG 261080
PSN: N0310 E09824
AREA: INDONESIA
SUMMIT ELEV: 2460M
ADVISORY NR: 2017/144
INFO SOURCE: VONA
AVIATION COLOUR CODE: ORANGE
ERUPTION DETAILS: ERUPTION TO FL130 AT 11/1228Z MOV W.
OBS VA DTG: 11/1305Z
OBS VA CLD: VA NOT IDENTIFIABLE FM SATELLITE DATA WIND
SFC/FL130 080/05KT
FCST VA CLD +6 HR: 11/1905Z NO VA EXP
FCST VA CLD +12 HR: 12/0105Z NO VA EXP
FCST VA CLD +18 HR: 12/0705Z NO VA EXP
RMK: VONA FOR ERUPTION TO FL130 AT 11/1228Z MOV W. VA
UNIDENTIFIABLE ON SATELLITE IMAGERY DUE TO MET CLOUD. WINDS
BASED ON VONA AND MODEL GUIDANCE.
NXT ADVISORY: NO FURTHER ADVISORIES
Previous news
More on VolcanoDiscovery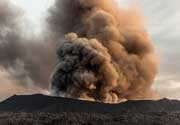 Dukono volcano photos
: Dukono on Halmahera in Indonesia has been in permanent activity for years, often producing ash plumes that drift around the northern part of the island and have become normality.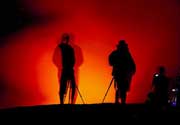 Volcano Expeditions
: Witnessing a volcanic eruption from close is an unforgettable experience. We offer a wide variety of tours and expeditions to active volcanoes worldwide.
Photos from Italy
: Italy - the cradle of volcanology. Browse through various photo galleries mainly from its numerous volcanic areas - from Naples to Etna and the Eolian Islands and more.