Sinarka volcano news & activity updates:
Thu, 26 Mar 2015, 17:40
Satellite images showed steam-and-gas emissions from Sinarka on 16 March and a weak thermal anomaly on 21 March.
Fri, 21 Nov 2014, 08:22
The alert level of the volcano was raised to Yellow. SVERT reported steam-and-gas emissions visible on satellite images.
...more
More on VolcanoDiscovery:
List and map of all volcanoes in Africa. Most volcanoes are located in the Great Rift Valley, but there are more.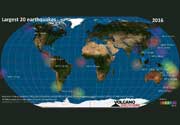 Top 20 quakes in 2016
: Several magnitude 7 quakes occurred in 2016 (but none above M8): Papua New Guinea, NZ, Ecuador, Solomon Islands, Sumatra, Chile, Alaska and others - nearly all major earthquakes were located near active subduction zones.
See the top 20 list of largest quakes in 2016 with this map.