complex volcano 3157 m / 10,357 ft
Oregon, 44.1°N / -121.77°W
Eruption list: 1853 (?), 2000 years ago
March 2004 seismic swarm
On 23-24 March 2004, a seismic swarm with ca. 1000 earthquakes within 48 hours occurred in the same area that had been experiencing uplift.
1997-2001 uplift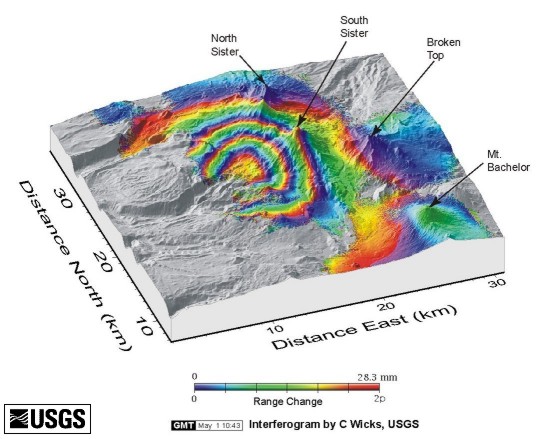 Radar interferogram showing a pattern of ground uplift centered about 3 miles (5 km) west of South Sister volcano in central Oregon (Source: CVO / USGS)
Satellite radar interferometry (InSAR) data from the USGS detected continuing slight uplift of a broad region centered 5 km west of South Sister volcano that began in 1997.