Southern EPR-Segment I volcano
Updated: Jul 6, 2022 16:37 GMT -
Refresh
Submarine volcano -2600? m / - 8,530 ft
Eastern Pacific Ocean, East Pacifc Rise, -18.53°S / -113.42°W
Current status: normal or dormant (1 out of 5)
Typical eruption style:
unspecified
Southern EPR-Segment I volcano eruptions:
1915 ± 40 years
Lastest nearby earthquakes:
No recent earthquakes
Background
The narrow axial crest of Segment I of the Southern East Pacific Rise in some places is less than 50 m wide. An axial dome is located along the southern part of the segment. The largest lava flow field in this EPR segment is the Animal Farm flow, named after a thriving low-temperature hydrothermal site discovered during a submersible expedition in 1993. The Animal Farm lava flow was dated by magnetic paleointensity measurements at about 1880-1950 AD, and older flows were dated by similar techniques to the 17th and 19th centuries.
---
Smithsonian / GVP volcano information
Southern EPR-Segment I Photos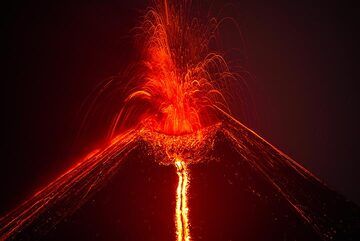 After the large bubble explosions, the effusion rate decreases and the lava flow starts slowly to weaken. At the summit strong strombolian activity continues. The vent of...

See also: Sentinel hub | Landsat 8 | NASA FIRMS