"Stromboli is just magic, erupting lava every 15 minutes or so, breaking the black night sky with fire: just great." (Nicolas S., from France, July 2011)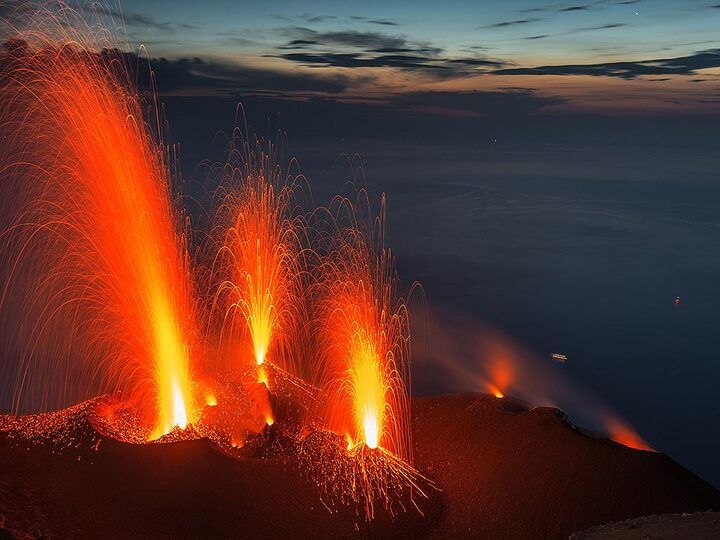 Eruption from several vents seen from Pizzo (the visitors' area)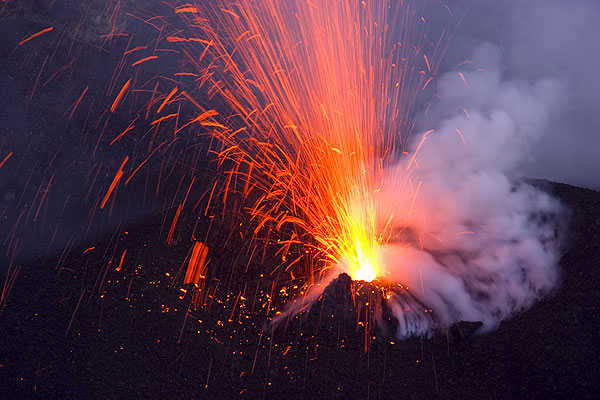 Lava fountain from a vent inside Stromboli's crater
Stromboli Trekking
group and private tours to watch Stromboli volcano
Tour type
Short tours and excursions: active volcanoes
Duration
5-7 hours (afternoon / evening)
Custom and group dates
Any day between 15 Mar - 1 Nov
Price per person
from 40 EUR p.p.
Notice: excursions can only go as far as to the excellent viewpoint at 400 m.
We currently do not take any reservations, but recommend you to contact our partners at
Magmatrek
directly.
Climbing Stromboli volcano can be
an extremely rewarding experience.
Famous for its regular fireworks since Ancient times, Stromboli is one of the very few volcanoes in the world that is in near-constant activity. It offers visitors a relatively easy access to a vantage point where its fireworks can be observed from very close range in reasonable safety.
In addition, the island of Stromboli with its particularly addictive charm is always worth a visit. Surrounded by sea, magnificent black-sand beaches, a tranquil setting (no cars), beautiful white houses with lush gardens, it provides a perfect surrounding for a relaxing holiday.
Watch one of the world's most active volcanoes
Extraordinary lava viewing conditions
Unique setting on a charming Mediterranean island
Private or group tours available
Ascesa Stromboli: nuovo sentiero
Day 1:

New climbing route

Start in the afternoon to the summit, observation of the activity, return around 11pm
Old route (Sciara del Fuoco)
Day 1:

Old climbing route via Sciara del Fuoco

Climb via Punta Labronzo and Sciara del Fuoco to Pizzo, stay on summit, descend (6-8 hrs total)
Ginostra route
Day 1:

Ginostra route

Transfer to Ginostra by boat, climb along the western rim of the Sciara del Fuoco to the Valle della Luna, then on to Pizzo, observation of the craters, descend to Stromboli village
Arrival info:
The tour starts and ends on Stromboli. Since return is usually late, it is normally necessary to spend at least one night on the island, but to enjoy the island and its volcanoes, you can easily spend 3 days or more there...
Physical requirements
The excursion requires ca. 900 m (ca. 3000 ft) altitude gain and descend which is strenuous. The whole excursion takes between 5 and 7 hrs. Typically, a group leaves at around 5-6pm and returns at around 11 pm. The ascent takes about 3 hrs and the descend 1-1.5 hrs for the return. Only people in good physical condition with experience in hiking and climbing on trails should attempt the climb.
The trail is unpaved, rocky or sandy. Exposure to heights and slopes should not be a problem and you need a secure step.