Stromboli volcano photos: lava flow into the sea August 2014
For the first time since 2007, Stromboli has a new lava flow reaching the sea since 7 August 2014. Some impressions from a visit during 8-12 Aug:
More on VolcanoDiscovery:
If you find the website useful and would like to support us and help keep it alive and improve it, please consider
making a small donation
.
Thank you!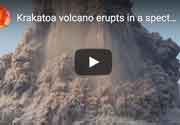 Krakatoa explodes
: In the afternoon of 17 Oct, a particularly violent explosion occurred at Anak Krakatau, blasting away a portion of the southern crater rim. A similar event might have been the final trigger for the catastrophic landslide that let the cone collapse and cause a devastating tsunami on 22 Dec 2018.