Suwanose-jima volcano, Japan, news & activity updates
Suwanose-jima Volcano Volcanic Ash Advisory: ERUPTED AT 20200926/0754Z FL060 EXTD SE OBS VA DTG: 26/0750Z
Saturday Sep 26, 2020 08:15 AM | BY: VN
Satellite image of Suwanose-jima volcano on 26 Sep 2020
Volcanic Ash Advisory Center Tokyo (VAAC) issued the following report:
FVFE01 at 08:04 UTC, 26/09/20 from RJTD
VA ADVISORY
DTG: 20200926/0804Z
VAAC: TOKYO
VOLCANO: SUWANOSEJIMA 282030
PSN: N2938 E12943
AREA: JAPAN
SUMMIT ELEV: 796M
ADVISORY NR: 2020/156
INFO SOURCE: HIMAWARI-8 JMA
AVIATION COLOUR CODE: NIL
ERUPTION DETAILS: ERUPTED AT 20200926/0754Z FL060 EXTD SE
OBS VA DTG: 26/0750Z
OBS VA CLD: VA NOT IDENTIFIABLE FM SATELLITE DATA WIND FL060 280/3KT
FCST VA CLD +6 HR: NOT AVBL
FCST VA CLD +12 HR: NOT AVBL
FCST VA CLD +18 HR: NOT AVBL
RMK: WE WILL ISSUE FURTHER ADVISORY IF VA IS DETECTED IN SATELLITE
IMAGERY.
NXT ADVISORY: NO FURTHER ADVISORIES=
Previous news
More on VolcanoDiscovery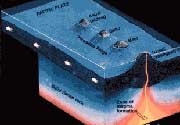 Intraplate volcanism
: A third tectonic setting where volcanism occurs is believed to be the result of mantle plumes and not directly related to plate boundaries. So called hot spot volcanoes fall into this category.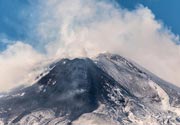 Etna trekking tour
: A tour entirely dedicated to Etna, the most active volcano in Europe. Spend 6 full days on Etna and get good chances to see eruptive activity.