Suwanose-jima volcano, Japan, news & activity updates
Suwanose-jima Volcano Volcanic Ash Advisory: VA IS NOT IDENTIFIABLE IN SATELLITE IMAGERY.
Sat, 24 Oct 2020, 00:00
00:00 AM | BY: VN
Volcanic Ash Advisory Center Tokyo (VAAC) issued the following report:
FVFE01 at 23:50 UTC, 23/10/20 from RJTD
VA ADVISORY
DTG: 20201023/2350Z
VAAC: TOKYO
VOLCANO: SUWANOSEJIMA 282030
PSN: N2938 E12943
AREA: JAPAN
SUMMIT ELEV: 796M
ADVISORY NR: 2020/184
INFO SOURCE: HIMAWARI-8
AVIATION COLOUR CODE: NIL
ERUPTION DETAILS: VA IS NOT IDENTIFIABLE IN SATELLITE IMAGERY.
OBS VA DTG: 23/2320Z
OBS VA CLD: VA NOT IDENTIFIABLE FM SATELLITE DATA WIND FL180 270/63KT
FCST VA CLD +6 HR: NOT AVBL
FCST VA CLD +12 HR: NOT AVBL
FCST VA CLD +18 HR: NOT AVBL
RMK: VA IS NOT IDENTIFIABLE DUE TO MET CLOUD OR HAS DISSIPATED. WE
WILL ISSUE FURTHER ADVISORY IF VA DETECTED IN SATELLITE IMAGERY.
NXT ADVISORY: NO FURTHER ADVISORIES=
Previous news
More on VolcanoDiscovery
If you find the website useful and would like to support us and help keep it alive and improve it, please consider
making a small donation
.
Thank you!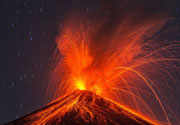 Fuego volcano photos
: One of Central America's most active volcanoes, Fuego in Guatemala is in near-permanent explosive eruption with intermittent phases of increasing activity that generate lava fountains, lava flows and pyroclastic flows.
Etna's steam rings
: A collection of fantastic vortex rings ("smoke rings") we observed recently on Etna.