Suwanose-jima volcano, Japan, news & activity updates
Suwanose-jima Volcano Volcanic Ash Advisory: ACTIVITY CONT. VA AT 20201104/1800Z FL040 EXTD W OBS VA DTG: 04/1750Z
Wed, 4 Nov 2020, 18:30
18:30 PM | BY: VN
Satellite image of Suwanose-jima volcano on 4 Nov 2020
Volcanic Ash Advisory Center Tokyo (VAAC) issued the following report:
FVFE01 at 18:23 UTC, 04/11/20 from RJTD
VA ADVISORY
DTG: 20201104/1823Z
VAAC: TOKYO
VOLCANO: SUWANOSEJIMA 282030
PSN: N2938 E12943
AREA: JAPAN
SUMMIT ELEV: 796M
ADVISORY NR: 2020/232
INFO SOURCE: HIMAWARI-8 JMA
AVIATION COLOUR CODE: NIL
ERUPTION DETAILS: ACTIVITY CONT. VA AT 20201104/1800Z FL040 EXTD W
OBS VA DTG: 04/1750Z
OBS VA CLD: VA NOT IDENTIFIABLE FM SATELLITE DATA WIND FL040 060/13KT
FCST VA CLD +6 HR: NOT AVBL
FCST VA CLD +12 HR: NOT AVBL
FCST VA CLD +18 HR: NOT AVBL
RMK: WE WILL ISSUE FURTHER ADVISORY IF VA IS DETECTED IN SATELLITE
IMAGERY.
NXT ADVISORY: NO FURTHER ADVISORIES=
Previous news
More on VolcanoDiscovery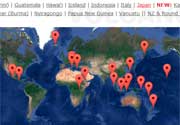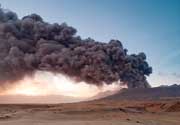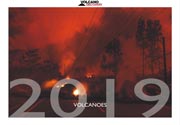 Volcano Calendar 2019
: We're proud to present our 2019 volcano calendar: 13 different and attractive images of volcanoes, volcanic landscapes and phenomena taken during volcano tours over the past few years.