Suwanose-jima volcano, Japan, news & activity updates
Suwanosejima volcano (Ryukyu Islands, Japan): near-constant ash emissions
Tue, 10 Nov 2020, 08:41
08:41 AM | BY: MARTIN
Steaming glow at Suwanosejima volcano on 9 November (image: @mykagoshima/twitter)
Eruption column from Suwanosejima volcano today (image: @mykagoshima/twitter)
No significant change in activity has occurred during the past days. Explosive activity of the volcano continues and is characterized by near-constant vulcanian-type explosions.
According to Japan Meteorological Agency a moderate explosion occurred at
14:45 local time today.
An ash plume rose
3,280 ft (1,000 m)
above the summit and drifted south.
Additionally, a surveillance cameras observed a constant glow that is visible from the summit crater and suggesting rise of magma.
Source: Japan Meteorological Agency volcano activity update 10 November 2020
Previous news
More on VolcanoDiscovery
If you find the website useful and would like to support us and help keep it alive and improve it, please consider
making a small donation
.
Thank you!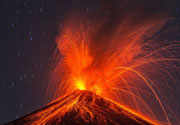 Fuego volcano photos
: One of Central America's most active volcanoes, Fuego in Guatemala is in near-permanent explosive eruption with intermittent phases of increasing activity that generate lava fountains, lava flows and pyroclastic flows.
Etna's steam rings
: A collection of fantastic vortex rings ("smoke rings") we observed recently on Etna.