Suwanose-jima volcano, Japan, news & activity updates
Suwanose-jima volcano (Ryukyu Islands, Japan) activity update: steaming, occasional weak eruptions, elevated seismicity
Sat, 22 Dec 2012, 11:05
11:05 AM | BY: T
Although no explosive eruptions occurred at Otake crater in November, very small eruptions occurred there intermittently. The maximum plume height was 500 m above the crater rim during this period (max. 700 m in October). Weak volcanic glows in the crater were sometimes recorded at night with high-sensitivity cameras.
A field survey conducted on November 9th confirmed a tiny amount of ashfall around 2 km southwest of Otake crater. In addition, according to the Toshima Village administration, ashfall was observed in the settlement in the island (about 4 km south-southwest of Otake) on November 25th. A field survey at Bunka crater on November 8th revealed no remarkable change in the shape of the inside of the crater. Infrared images showed no significant change in temperature distribution at the crater.
Seismic activity remained at low levels. Volcanic tremors have occurred almost continuously since September 28th 2012, and especially in November, occurred at all times. The total tremor duration in November was 720 h (705 h 19 m in October).
Source: Monthly Volcanic Activity Report (November 2012)
Previous news
More on VolcanoDiscovery
If you find the website useful and would like to support us and help keep it alive and improve it, please consider
making a small donation
.
Thank you!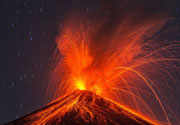 Fuego volcano photos
: One of Central America's most active volcanoes, Fuego in Guatemala is in near-permanent explosive eruption with intermittent phases of increasing activity that generate lava fountains, lava flows and pyroclastic flows.
Etna's steam rings
: A collection of fantastic vortex rings ("smoke rings") we observed recently on Etna.