Suwanose-jima volcano, Japan, news & activity updates
Suwanose-jima volcano Volcanic Ash Advisory: EXPLODED AT 20181117/0116Z OVER FL030 EXTD S OBS VA DTG: 17/0110Z
Saturday Nov 17, 2018 01:30 AM |
Volcanic Ash Advisory Center Tokyo (VAAC) issued the following report:
FVFE01 at 01:27 UTC, 17/11/18 from RJTD
VA ADVISORY
DTG: 20181117/0127Z
VAAC: TOKYO
VOLCANO: SUWANOSEJIMA 282030
PSN: N2938 E12943
AREA: JAPAN
SUMMIT ELEV: 796M
ADVISORY NR: 2018/68
INFO SOURCE: HIMAWARI-8 JMA
AVIATION COLOUR CODE: NIL
ERUPTION DETAILS: EXPLODED AT 20181117/0116Z OVER FL030 EXTD S
OBS VA DTG: 17/0110Z
OBS VA CLD: VA NOT IDENTIFIABLE FM SATELLITE DATA WIND FL180 280/58KT
FCST VA CLD +6 HR: NOT AVBL
FCST VA CLD +12 HR: NOT AVBL
FCST VA CLD +18 HR: NOT AVBL
RMK: WE WILL ISSUE FURTHER ADVISORY IF VA IS DETECTED IN SATELLITE
IMAGERY.
NXT ADVISORY: NO FURTHER ADVISORIES=
Previous news
More on VolcanoDiscovery
Best tours to see lava
: Visiting an erupting volcano is an unforgettable experience. If you're particularly looking to see "Red Hot Lava", these are among the best places to go to.
Guatemala photos
: Guatemala - a land of volcanoes and the colorful Mayan culture with incredible variety. A dream destination for volcano enthusiasts and photographers!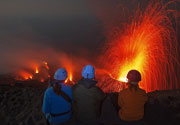 From Stromboli to Etna tour
: A small group tour with a volcanologist to discover the active volcanoes in Sicily: spend 8 fantastic days in some of the most beautiful and interesting volcanic areas in the world. Watch Etna and Stromboli erupt... Last but not least, very nice accommodation and delicious food wait for you!