Tarakan volcano books:
stratovolcano 318 m / 1,043 ft
Halmahera, Indonesia, 1.83°N / 127.83°E
More on VolcanoDiscovery:
Become a supporter
: To continue to run this website full of free information about earthquakes and volcanoes to you, we also need to pay our developer, servers and in addition, we spend lots of our free time on it. If you enjoy it, we will greatly appreciate your support. If you like, you can send us a small donation.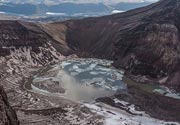 Gorely volcano photos
: Gorely is a young and very active shield volcano in southern Kamchatka. It is one of Kamchatka's easiest volcanoes to climb and offers stunning views into vast craters and the surrounding landscape.