Telica volcano (Nicaragua), eruption news & updates:
Telica volcano (Nicaragua): new ash emissions
Mon, 11 May 2015, 09:09
09:09 AM | BY: T
Eruption at Telica on 8 May 2015 (Viva Nicaragua - Canal Trece / Facebook)
Several small explosions with ash emissions have occurred from the volcano's summit vent since 8 May.
8 explosions generated ash plumes up to 250 m height that drifted west causing light ash fall in the villages Quebranchal, Telica, Polvareda and Las Joyas.
Previous news
More on VolcanoDiscovery
If you find the website useful and would like to support us and help keep it alive and improve it, please consider
making a small donation
.
Thank you!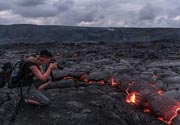 1-3 day excursions
: If you're interested in volcanoes, there are a number of excursions you should not miss if you're in the area: hike to the craters of Stromboli volcano, climb Etna volcano, get to know the unique volcanic history of Santorini - some examples of shorter (1-3 days) tours and excursions we offer.
Etna's steam rings
: A collection of fantastic vortex rings ("smoke rings") we observed recently on Etna.