Todra Volcanic Field volcano
Cinder cones 1780 m / 5,840 ft, Niger, 17.68°N / 8.5°E
Nearby recent earthquakes (within 30km radius):
Earthquake list: past 7 days (only M>=-0.8)
Updated: Fri, 14 Aug 00:41 UTC (GMT)
Time
Mag. / Depth
Distance
Location
Map
Source
No recent earthquakes in our database
Earthquake statistics
Number of earthquakes vs time:
Past 24 hrs:
Past 30 days:
Past 90 days:
Magnitude distribution and energy released:
Past 24 hrs:
Past 7 days:
Past 30 days:
More on VolcanoDiscovery:
If you find the website useful and would like to support us and help keep it alive and improve it, please consider
making a small donation
.
Thank you!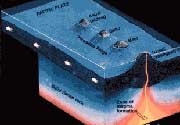 Intraplate volcanism
: A third tectonic setting where volcanism occurs is believed to be the result of mantle plumes and not directly related to plate boundaries. So called hot spot volcanoes fall into this category.
Desert, Salt & Volcanoes
: Experience one of the geologically most active areas on the planet: the Danakil desert in northern Ethiopia. Highlights include Erta Ale volcano with its active lava lake and Dallol hydrothermal fields offering a surreal landscape of colors, salt, geysers and springs.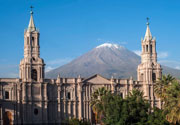 Volcanoes of Peru
: Our 12-days itinerary includes some of the most beautiful and interesting sights around Arequipa from "volcanic point of view": La Laguna de Salinas, El Misti, Ubinas, Picchu Picchu, Andagua Valley, Colca Canyon, and currently erupting Sabancaya volcano.