Toroeng Prong volcano
Toroeng Prong volcano is a small basaltic cone in west-central Vietnam SW of the city of Quang Ngai. Toroeng volcano contains a crater lake and 3 vents. It is well preserved and could be less than 10,000 years old.
See also:
Sentinel hub
|
Landsat 8
More on VolcanoDiscovery
Volcano Calendar 2015
: We're proud to present our new volcano calendar 2015: 13 different and attractive images of volcanoes, volcanic landscapes and phenomena taken during volcano tours over the past few years.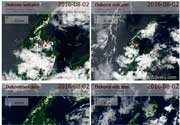 Recent volcano satellite images
: Browse quickly through the latest satellite imagery from volcanoes all over the world in order to spot ash clouds and hot spots.