Barren island volcano / Andaman Islands, activity update: lava flow
Fri, 21 Nov 2008, 20:22
20:22 PM | BY: TS
A pilot reported a lava flow on Barren island on 17 November and also a ash plume was seen.
More on VolcanoDiscovery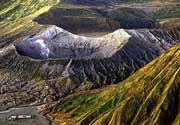 Bromo volcano photos
: Bromo is one of Indonesia's most visited volcanoes. It is the most active vent inside the huge Tengger caldera and erupts every few years.
Introduction to Plate Tectonics
: The Earth's upper, rigid layer is broken into several plates which are in constant motion to one another. Most earthquakes and volcanoes occur as result of these plate boundaries.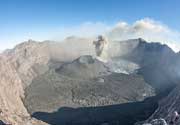 Raung volcano photos
: One of the largest and most active volcanoes in East Java, rarely-visited and relatively unknown Raung became (in)famous during its recent eruption in 2015 when its frequent ash plumes forced the repeated closure of Bali's airport.