Volcán Azul volcano
Updated: Nov 29, 2023 02:02 GMT
-
cinder cones 201 m / 659 ft
Nicaragua, 12.53°N / -83.87°W
Current status: normal or dormant (1 out of 5)
Volcán Azul (also known as Volcán Blue) a group of 3 cinder cones located on the Atlantic coastal plain of Nicaragua. The volcanic cones are in an area covered by dense rainforest and were discovered during an aerial survey in the 1960s.

Note: There is another Cerro Azul volcano in Chile.
Typical eruption style:
mildly explosive
Volcán Azul volcano eruptions:
less than 10,000 years ago, no historic eruptions
Latest nearby earthquakes
No recent earthquakes
Background
The youthful trachybasaltic cinder cones are located south of the Río Curinhuás and west of Pearl Lagoon. The cones have well-defined, steep-walled craters which are about 50-60 m across. The easternmost crater is open to the west, the other 2 are circular.
Based on the fresh vegetation and relatively low vegetation cover, it is thought that they could have formed only a few thousands years ago.
Other trachybasaltic to trachytic Quaternary cones along the central Nicaraguan Atlanatic coastal plain are found at Pearl Lagoon and Kukra Hill.
Volcán Azul Photos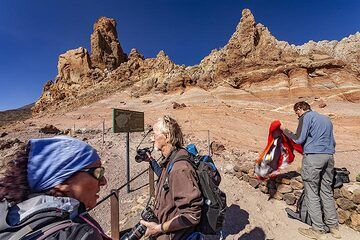 The VolcanoDiscovery group at Mirador de Los Azulejo on Tenerife island. (Photo: Tobias Schorr)




See also: Sentinel hub | Landsat 8 | NASA FIRMS