Volcanic activity worldwide 13 Dec 2014: Batu Tara volcano
Sat, 13 Dec 2014, 21:00
21:00 PM |
Batu Tara (Sunda Islands, Indonesia)
:
(12 Dec
) During our recent expedition to Batu Tara, we witnessed a spectacular increase in activity during the night 3-4 Nov, culminating in a small pyroclastic flow triggered by a collapsing lava fountain and increased effusive activity from the dome. Andi and Till managed to capture the event on
photos
.
Previous news
More on VolcanoDiscovery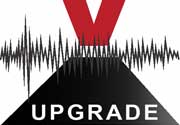 Volcanoes & Earthquakes
: Upgrade the Volcanoes & Earthquakes app!
Once installed for a tiny one-time cost, it unlocks additional features, removes ads in the free version of the app.