Volcanic activity worldwide 12 Feb 2015: Stromboli volcano, Soputan, Dukono, Reventador, Suwanose-jima
Thu, 12 Feb 2015, 17:41
17:41 PM |
Ash plume from a strombolian explosion at Stromboli this afternoon
Strombolian eruption from Suwanosejima volcano this morning, seen from Nakanoshima Island in 30 km distance (JMA webcam)
Front of Soputan's active lava flow on 5 Feb (photo: Andi / VolcanoDiscovery Indonesia)
Thermal image of Reventador's new lava flow today
Stromboli (Eolian Islands, Italy)
: The currently weak, sporadic strombolian activity from the summit vents increased during the past night when explosions became more frequent. A small peak in otherwise low tremor occurred a day earlier (9 Feb).
Suwanose-jima (Ryukyu Islands)
: The volcano has been more active during the past days, with frequent, sometimes intense strombolian activity visible from neighboring islands. Small ash plumes rose to 6,000 ft (1.8 km) altitude.
Soputan (North Sulawesi, Indonesia)
: The eruption continues with an active viscous lava flow on the upper western flank. Occasional explosions such as this morning produce ash plume that rise to 3-4 km altitude, i.e. 1.5-2 km above the volcano.
Dukono (Halmahera)
: An ash plume to 12,000 ft (3.6 km) altitude was emitted this morning and observed on satellite data extending 35 km to the south (VAAC Darwin).
Reventador (Ecuador)
: A new lava flow seems to be active on the southwestern flank. Occasional explosions continue from the summit vent where a lava dome is growing.
From the thermal webcam images, it seems that the lava flow began yesterday.
Previous news
More on VolcanoDiscovery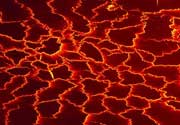 Nyiragongo volcano photos
: Nyiragongo (DR Congo) has the world's largest and most active lava lake. Enjoy our pictures taken during several expeditions over the past years.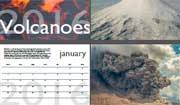 Volcano Calendar 2016
: We're proud to present our new volcano calendar 2016: 13 different and attractive images of volcanoes, volcanic landscapes and phenomena taken during volcano tours over the past few years.