Nyamuragira volcano
Shield volcano 3058 m / 10,033 ft
DRCongo, -1.41°S / 29.2°E
Current status: minor activity or eruption warning (3 out of 5)
Last update: 14 Jun 2021 (new lava lake)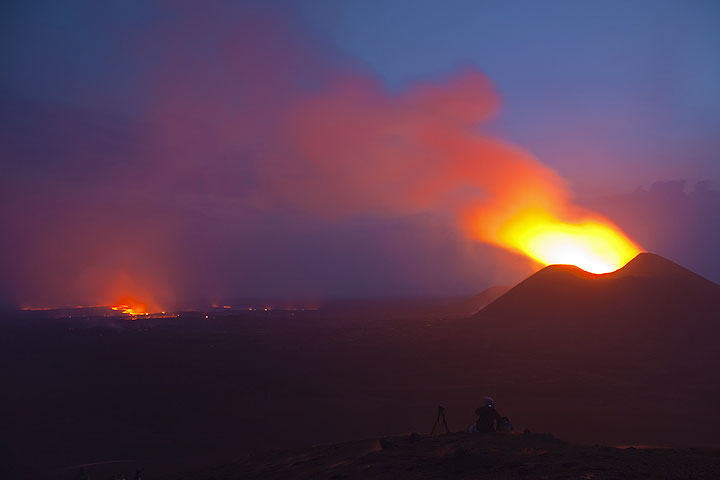 Eruption of Nyamuragira volcano from the Kimanura east vent in mid January 2012
Nyamuragira, a large shield volcano similar to Mauna Loa on Hawai'i, is one of Africa's most active volcanoes. Every few years, it produces eruptions often from radial fissures emitting lava fountains and large, fluid lava flows travelling many kilometers into the scarsely populated area of tropical forest and farmland surrounding it.
Typical eruption style
: Large effusive eruptions (Hawaiian style)
Nyamuragira volcano eruptions
: 1865, 1882, 1894, 1896, 1899, 1901, 1902, 1904, 1905, 1906(?), 1907, 1907, 1908, 1909, 1912-13, 1920, 1921-38, 1938-40, 1948, 1951, 1951-52, 1954, 1956, 1957, 1958, 1967, 1971, 1976-77, 1980, 1981-82, 1984, 1986, 1987-88, 1989, 1991-93, 1994, 1996, 1998, 2000, 2001, 2002, 2004, 2006, 2010, 2011 (6 Nov) - March 2012, 2014-16 (summit lava lake)
Latest nearby earthquakes
| | | |
| --- | --- | --- |
| Time | Mag. / Depth | Distance/Location |
Background
Nyamuragira is Africa's and one of the world's most active volcano. It erupts roughly every two years, producing large fluid lava flows.

Nyamuragira is is a massive high-potassium basaltic shield volcano located about 25 km north of Lake Kivu in the East African Rift Valley NW of Nyiragongo volcano. It has a volume of 500 cubic km, and extensive lava flows from the volcano blanket 1500 square km of the East African Rift, some lava flows having travelled more than 30 km from the summit. The broad shield volcano, 3058 m high, has a summit caldera, about 2 km wide and walls up to about 100 m high. During some eruptions, a lava lake is contained within the caldera. As typical for shield volcanoes, it has both eruptions inside the summit caldera and from extensive rift zones on the flanks, producing numerous fissures and cinder cones.
Nyamuragira Photos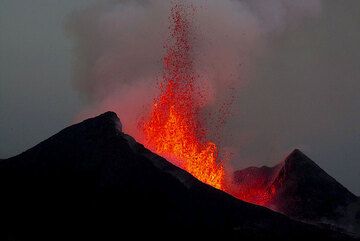 Lava fountains of around 150 m height from the active flank vent during the 2011-12 eruption of Nyamuragira (Nyamulagira) volcano, DRCongo. (Photo: Lorraine Field)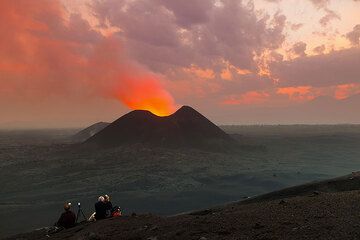 Just before sunrise, the sky is painted pink (Nyamuragira volcano eruption 2011-12) (Photo: Tom Pfeiffer)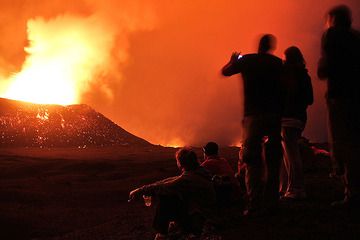 Mostly employees of UN and NGOs from all over the world but all working in Goma (I was the only tourist) watch the night show. Note that so much gas was expelled from the...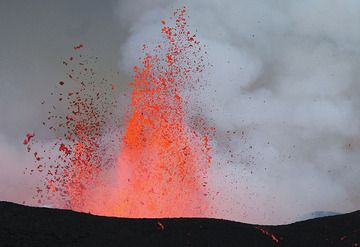 Lava shoots from the main crater (east one). Most explosions were very wide – bubble like explos but they did not make a great pic. (Photo: Paul Hloben)
2011-2012 Kimanura flank eruption
A new flank eruption from started at Nyamuragira on 6 November 2011, from a series of E-W aligned fissures located about 10 km east of the summit caldera. The eruption started with intense ground fracturing (evidence of which was observed during our expedition) and tall lava fountains from several vents, that quickly started to built the western Kimanura cone complex.
Lava flows traveled many kilometers to the north, burning large areas of forest, but caused no damage to infrastructure, since the area is not populated. Tall fountaining lasted about 1 week, and moved to intense spattering from active lava-lake filled vents and strombolian explosions. Depending on the wind direction, areas surrounding the vents received up to about 1 meter of lapilli and scoria fallout. A second cluster of vents opened about 1 km down-slope on the same fissure system in early January and produced lava fountains our first expedition group in January was lucky to observe from close. Another, similar sized complex of vents built up quickly the so-called east Kimanura vent complex. Similar to the activity of the western complex, lava fountaining merged into a form of intense spattering from boiling lava lake activity and continued to fee large lava flows traveling to the north. As of 2 February, the eruption is still continuing.
It seems likely that this eruption ranks as one of the volcano´s largest during the past 100 years, both in duration and total lava volume erupted.

See also: Sentinel hub | Landsat 8