West Molokai volcano
Typical eruption style
: unspecified
West Molokai volcano eruptions
: None during the past 10,000 years
Less than few million years ago (Pleistocene)
| | | | |
| --- | --- | --- | --- |
| Time | Mag. / Depth | Distance | Location |
Background:
The flat West Molokai shield volcano was formed by eruptions along two rift zones at the west end of Molokai Island during the Pliocene and early Pleistocene. The youngest Potassium-Argon date is 1.52 +/- 0.6 million years ago (Langenheim and Clague, 1987).
---
Source: Smithsonian / GVP volcano information
See also:
Sentinel hub
|
Landsat 8
More on VolcanoDiscovery
Volcano Calendar 2015
: We're proud to present our new volcano calendar 2015: 13 different and attractive images of volcanoes, volcanic landscapes and phenomena taken during volcano tours over the past few years.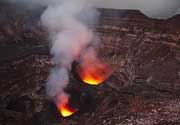 Ambrym volcano photos
: Ambrym (Vanuatu) is one of the most active volcanoes in the world. Its vast caldera has an amazing moonscape and several active vents that contain boiling lava lakes, most famous Marum and Benbow.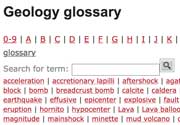 Glossary of geologic terms
: A growing list of often illustrated explanations and definitions of geological terms and keywords, with focus on volcanology and seismology.