White Island volcano
Updated: Aug 10, 2022 02:33 GMT -
Refresh
stratovolcano 321 m / 1,053 ft
New Zealand, -37.52°S / 177.18°E
Current status: normal or dormant (1 out of 5)
Last update: 29 Jun 2022 (Smithsonian / USGS Weekly Volcanic Activity Report)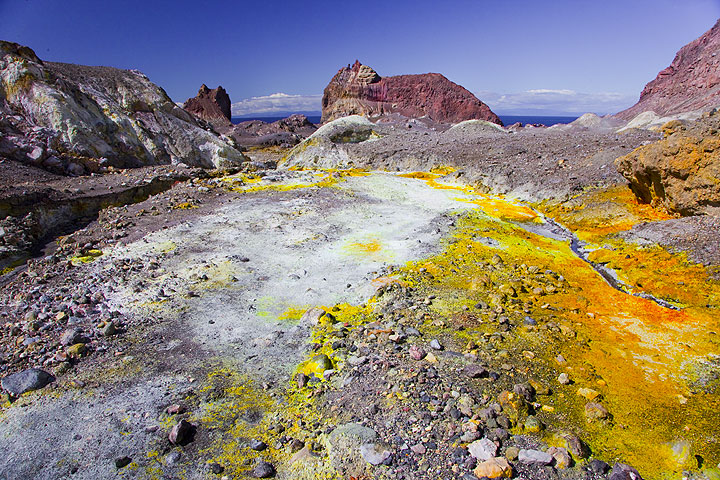 Inside the crater of White Island volcano
White Island in the Bay of Plenty ca. 50 km off the North Island's east coast is one of New Zealands most active volcanoes, well known for its spectacular crater with strong hydrothermal activity and sulphur deposits. It is part of the active Taupo volcanic zone and last erupted in 2001 (phreatic explosion).
Typical eruption style:
Explosive (in historic time: frequent small phreatic and phreatomagmatic eruptions)
White Island volcano eruptions:
2019, 2016, 2013, 2012, 2001, 1998-2000, 1998, 1995, 1986-94, 1983-84, 1976-82, 1974, 1971, 1971, 1970, 1969, 1968-69, 1966-67, 1962, 1959, 1958, 1957, 1955, 1947, 1933, 1930, 1928, 1926, 1924, 1922, 1909, 1908 (?), 1886?,1886, 1885 (?), 1885, 1856 (?), 1836, 1826
Lastest nearby earthquakes:
Background
Uninhabited 2 x 2.4 km White Island, one of New Zealand's most active volcanoes, is the emergent summit of a 16 x 18 km submarine volcano in the Bay of Plenty about 50 km offshore of North Island. The 321-m-high island consists of two overlapping andesitic-to-dacitic stratovolcanoes; the summit crater appears to be breached to the SE because the shoreline corresponds to the level of several notches in the SE crater wall. Volckner Rocks, four sea stacks that are remnants of a lava dome, lie 5 km NNE of White Island. Intermittent moderate phreatomagmatic and strombolian eruptions have occurred at White Island throughout the short historical period beginning in 1826, but its activity also forms a prominent part of Maori legends. Formation of many new vents during the 19th and 20th centuries has produced rapid changes in crater floor topography. Collapse of the crater wall in 1914 produced a debris avalanche that buried buildings and workers at a sulfur-mining project.
(Source: GVP)
White Island Photos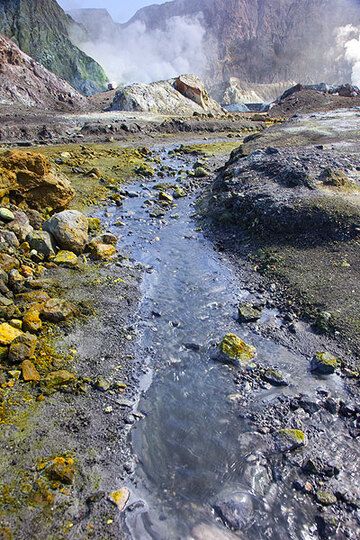 Small river coming from the crater of White Island (Photo: Tom Pfeiffer)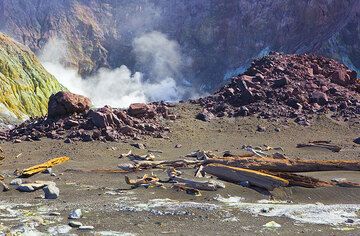 Gas vents on White Island (Photo: Tom Pfeiffer)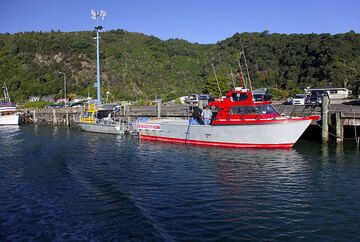 The boat harbour of Whakatane, the gate to White Island (Photo: Tom Pfeiffer)
2012 eruption
A new phase of activity started on 5 August 2012, following an increase in seismic activity since July. The eruption consisted in weak ash emissions from a new vent in the Crater Lake. It is the first ash emission from White Island in 12 years. ...
more
White Island volcano tours:

Dream Come True - World Volcano Tour
(4-week round-the-world trip to Hawaii - Vanuatu - New Zealand - Indonesia)

See also: Sentinel hub | Landsat 8 | NASA FIRMS