Yali volcano
Updated: Mar 21, 2023 15:33 GMT
-
Lava dome(s) 180 m / 591 ft
Aegean Sea, Greece, 36.67°N / 27.14°E
Current status: (probably) extinct (0 out of 5)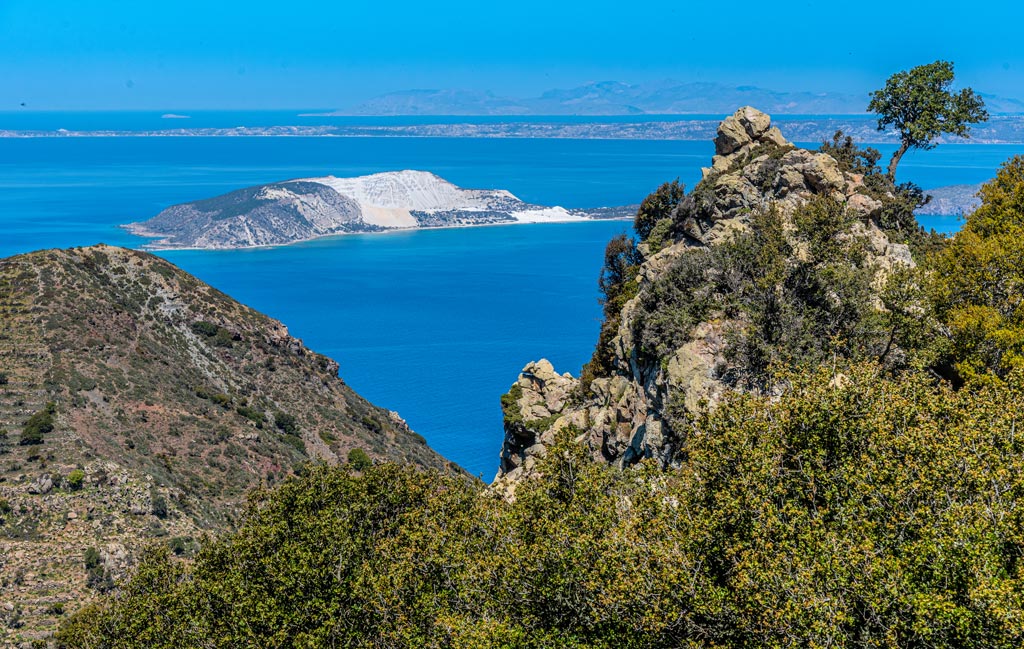 The island of Yali (center) seen from Nisyros; Kos and the Turkish coast are in the background (image: Tom Pfeiffer)
Yali is a small island between Nisyros and Kos, composed mainly of obsidian-bearing lava rocks and white pumice. Its name, meaning glass in Greek, refers to the occurrence of obsidian, which was used in prehistoric times to produce cutting tools and Yali was one of the sources of obsidian in the eastern Mediterranean.
Today, the island is uninhabited and home to an industrial pumice quarry.
It is matter of debate whether Yali is (or was) an own independent volcano with its own magmatic system or should rather be seen as a part of the Nisyros-Kos caldera complex.
Typical eruption style:
explosive
Yali volcano eruptions:
(probably) none during the past 10,000 years
Latest nearby earthquakes
No recent earthquakes
Background
Yali, a small crescent-shaped island between the N coast of Nisyros and the SW coast of Kos islands, consists of rhyolitic obsidian domes and pumice deposits. It lies within the inferred location of the large submarine caldera associated with the eruption of the voluminous Kos Plateau Tuff, about 160,000 years ago, which produced extensive ignimbrites that blanket much of the western half of Kos island and which produced a caldera of uncertain dimensions but one that could extend from Kefalos Bay on the SW side of Kos to Nisyros.
Yali is oriented NNE-SSW and contains two distinct segments connected by a narrow isthmus formed of modern reef sediments. The SW part of the island consists primarily of a layered pumice-fall unit about 200 m thick; the NE part contains rhyolitic obsidian lava flows of similar thickness. No historical eruptions are known, but the most recent pumice eruptions overlie soils containing pottery and Neolithic obsidian artifacts (Keller, 1982).
Yali Photos
| | |
| --- | --- |
| Opale (hyalite) from the German volcano Kaiserstuhl (Photo: Tobias Schorr) | View from the top of the island. Yali, Kos and Kalymnos islands in the background. (c) |
| We are near the top of the mountain. The view opens up towards Yali island with its pumice quarry. (c) | Ruins of an old windmill and the pumice quarry of Yali Island in the background. (c) |



See also: Sentinel hub | Landsat 8 | NASA FIRMS